Seniors Epperson, Scott named Co-Female Athletes of the Year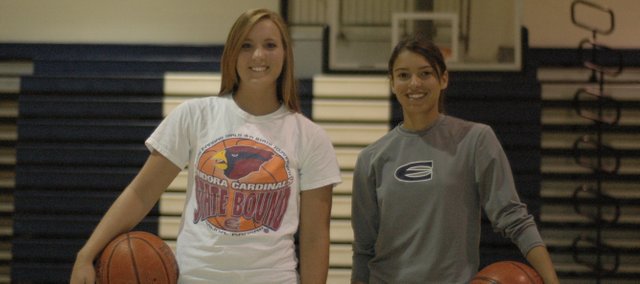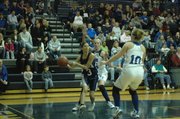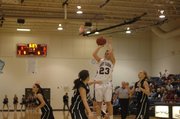 Haley Epperson and Bailey Scott grew up together playing sports. They spent countless hours honing their skills on the court and on the field. And in their senior years, all that hard work paid off.
Epperson and Scott have been named The Eudora News' Co-Female Athletes of the Year. Epperson dominated in the paint for the Eudora girls basketball team and averaged 16 points and seven rebounds a contest. Epperson often carried the team on her back during the season. Epperson was a first team all-league and a first team all-state pick.
Scott also enjoyed a splendid senior campaign. Scott, a guard on the EHS girls team, averaged 11 points, three rebounds and three steals per contest. She usually guarded the opponent's best offensive player and was a terrific three-point shooter.
With Epperson inside and Scott on the perimeter, the Cardinals boasted a strong inside-outside game that few teams could match. With Epperson and Scott leading the way on the court, the Eudora girls advanced to the state tournament for the first time since 1992.
Epperson said the 2008-2009 season — which the EHS girls erased the memories of the past two sub-state championship games — was an accomplishment that likely wouldn't have been achieved had the girls basketball team not rallied around each other.
"It was nice to be around people that wanted the same things as me," Epperson said "It was a great feeling throughout the season to make things happen, and for all of us to accomplish our own goals as one team."
The community also rallied behind the team and filled the seats for several home games as well as the sub-state championship and at state.
"As the season grew, seeing all the fans out there really made wining sub-state that much more," Epperson said. "There were so many people there to share it with. It definitely made the experience so much better."
After falling behind by 16 points, Eudora lost to eventual state champion Concordia. But fueled by 24 points form Epperson and 18 from Scott, Eudora cut the lead to four with one minute to go before falling.
Making it to state in basketball was Epperson's No. 1 personal goal this year. So much so that she didn't play volleyball — a sport she also excelled at the previous three years. Epperson essentially traded hours at the volleyball net last fall to work on her game to help get the Cards to state. It meant that much to her.
"I've always loved volleyball," Epperson said. "Coming into high school I thought it was my favorite, but as the years went on I just kind of grew to love basketball even more. And I just decided that that's what I wanted to work on to make myself better. And I definitely don't regret my decision because during the fall, during volleyball I got to work on my game and I think it really made a difference in the season and how I progressed."
Scott, who often poked balls away and converted them into easy layups on the basketball court, also showed her talents on the softball field. Scott led the team in batting average (.417), hits (30), runs scored (25) and stolen bases (22). Scott's 22 stolen bases were the most in a single season at EHS, and she also set the career stolen base record this year. Scott was a first team all-league pick and was a second-team all-state selection.
Scott was also one of only two seniors on the EHS softball team that advanced to the second round of regionals.
"It was a learning year for our team," Scott said. "We lost a lot of players and we had to have some new leaders step up."
Former EHS softball coach Cara Kimberlin said Scott's leadership was seen not only during the games, but also at practice.
"Bailey's not a vocal kid," Kimberlin said. "She's a quite kid. She leads by example. She's not going to be vocal with any kid and jump them or anything like that. She just shows up every day and puts her cleats on and was ready to practice."
With their high school careers now over, Epperson and Scott will begin the next phase of their lives in college. Epperson is going to Northwest Missouri State in the fall and will major in elementary education. And Scott is going to Johnson County Community College.