EHS

counselor's quartet sees success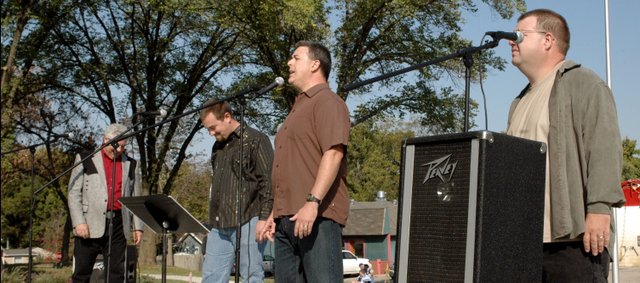 Eudora High School guidance counselor Paul Walrod and his vocal quartet The Boys of the Fort have had a good year so far.
They have had two songs hit No. 1 on gospel, bluegrass and country music Web site Radioactiveairplay.com, which is available to radio program directors and DJs.
The group's songs "He's Getting Me Ready" and "Lucky Moon" hit No. 1 during the weeks of Jan. 13 and Feb. 12, respectively.
They also have upcoming performances in Newton and Branson, Mo.
The group — consisting of lead singer Walrod, bass Ben Ingram and tenor Bryan Ganer — came together in Fort Scott in 1994 and sings a mixture of country and gospel music. Baritone Casey Brown joined about three years ago.
Walrod said he hopes the exposure they've received in 2009 makes for an even better 2010.
The group has met with investors with the hopes of purchasing better recording equipment. It also would like to get a promoter, who could book shows for them, rather than the four men trying to juggle booking duties along with family and work responsibilities.
"We're not trying to wait around, but sometimes you can do only so much and some things have to come find you," Walrod said.
Those family responsibilities are especially important to Walrod, who has six children. The most recent addition to the family was 1-and-a-half-year-old Samara, a girl who his family adopted in October.
"Performing had always been a part of my life, but I know when I've written different things like essays that have asked 'what are you most happy about that you've been able to do,' I've always been pleased with my ability to balance work, family and performing," Walrod said.
However, he said he wouldn't mind it if he only had to balance his family and performing.
"I've always known there were three parts to the pie," he said. "Sometimes different parts swell, but I would like to see the performing part swell a little more. If it swells and takes over the work, that's fine just as long s it doesn't swell and take over the family part, too."
The Boys of the Fort will perform at 7:30 p.m. March 14 in Newton at the Fox Theatre.
They also will perform attend and perform at Gospel Music Association convention in Branson, Mo.
To purchase one of the quartet's albums, contact Walrod at
785-917-0360.