Salzman takes 6th at state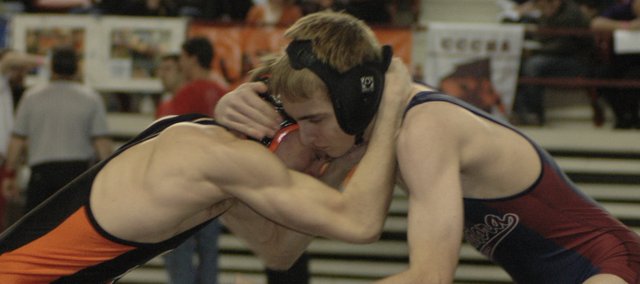 This year the Eudora Cardinals didn't leave the state wrestling tournament in Salina empty handed.
Junior Cody Salzman, who wrestled at 112-pounds, took home the sixth-place medal Saturday at the 4A state wrestling tournament in Salina.
"He pulled a good upset in the first round," Eudora wrestling coach Bill DeWitt said. "He came out with some fire. He realized that his bracket, as tough as it was, his best chance was to win those first two matches and he did."
Salzman pinned his first round opponent and won his second round bout 11-9 to advance to the semifinals. From there, Salzman was a little overmatched the rest of the tournament, DeWitt said, and he lost his last three matches.
Salzman finished fourth at regionals, and the three wrestlers who finished ahead of him all medaled at state. DeWitt said he was proud of Salzman, who finished the year with 33 wins, for battling his way into the semifinals.
"He did a really good job of winning his quarter-bracket and just ran into some really good kids coming out of the back door," DeWitt said.
Eudora's three other wrestlers who advanced to state were sophomores Boomer Mays (215) and Caleb Clayton-Molby (189) and junior Thomas McLees (119).
Mays went 1-2 at the state tournament, losing his first round match Friday to Concordia's Levi Kindel who placed third. Mays bounced back later that night and won his next match but couldn't follow up with another win.
Molby went 0-2 at state and didn't practice all last week because of knee injury.
"I think the first match he was a little overwhelmed by the experience," DeWitt said of Molby. "I don't think he wrestled well. But his second match he came out and wrestled well. He had a takedown going and was in the lead for a while, but he got caught and was put on his back and got pinned. He just kind of relaxed a little on the finish. I don't think he wrestled badly. That's just something you have to learn from. You've got to finish your moves hard and never relax at that level."
McLees also went 0-2 at state, but the two wrestlers he lost to finished second and sixth at state. Though Eudora went 3-6 in its matches at state, DeWitt said having that was a positive, considering none of them had wrestled at state before.
"It wasn't too bad considering they were all underclassmen," DeWitt said. "The biggest thing we'll take away from that is experience, obviously. They have an opportunity now to try to work through that and get back there next year and improve on what they did.
"I think obviously if they all work hard in the offseason and get back there next year, we can expect bigger things now that they've been through that process. Some of those losses were frustrating, but really they wrestled well. I can't really fault their effort."