Cards one win from state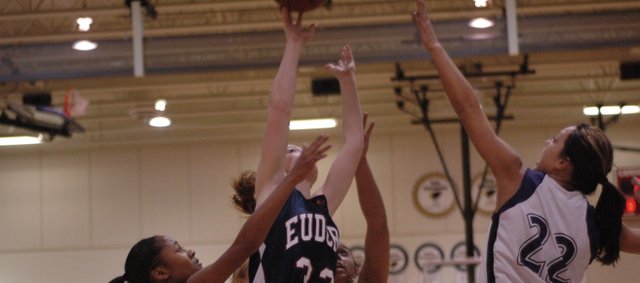 Shea Lounsbury's free throw with 14.4 seconds to play put the Eudora girls up four points, and the No. 3 seed Cardinals knocked off No. 2 Piper, 51-47, Friday in Eudora to advance to the sub-state championship against St. James at 6 p.m. Saturday in Eudora.
Lounsbury scored four points in the game, and her hustle and defense off the bench energized the Cardinals. Lounsbury had eight rebounds, two assists and a late block to preserve Eudora's win.
"If we had not played like we had with all of our emotion and all of our hustle, we could not have won that game," Lounsbury said. "We talked through the whole game. Our intensity, it was amazing. And if we do that tomorrow, there's no one that can stop us."
Lounsbury's late free throw came after missing on her first attempt.
"The first miss was scary," she said. "I was just thinking, 'OK, relax. I can do this. Just shoot and make it.'"
Lounsbury drained the second shot, and the Eudora bench danced as the clock ran down. Senior Haley Epperson led Eudora (15-7) with 16 points, nine of them coming in the second half. Bailey Scott scored 15 points, hit a three, had three steals and went 8-of-8 from the free-throw line. Eudora went 21-26 from the stripe for the game.
"We played at a different level tonight," Eudora coach Ryan Luke said. "And this time of year definitely brings out the best in everybody and they definitely showed it. They stepped up. I don't want to say that I knew they would, but I knew they would because that's the kind of people they are. They don't give up on things. They step up when it's time. I can't even pick out one person in particular. It was a team effort. They did a great job."
It is the third year in a row that the Eudora girls have advanced to the sub-state title game. The previous two trips ended one win short of going to state. 
"This is the third year we've made it to this game," Luke said. "So third time's the charm. I hope so. We'll see."
Eudora played St. James Feb. 17 at home and won, 46-33.
"I just hope that they can do it one more night," Luke said. "Just one more night to get where we want to go."
1 2 3 4 F
Eudora 11 9 12 19 51
Piper 6 5 13 23 47
Eudora: Bailey Scott 15, Evan Folks 6, Rachel Pyle 4, Mariah Webb 6, Haley Epperson 16, Shea Lounsbury 4.
Piper: Michelle Selbe 10, Sam Watson 15, Danyelle Cole 8, Whitney Williams-Bey 2, Patrice Lasley 10, Whitney Morrow 2.