Cards up for Concordia challenge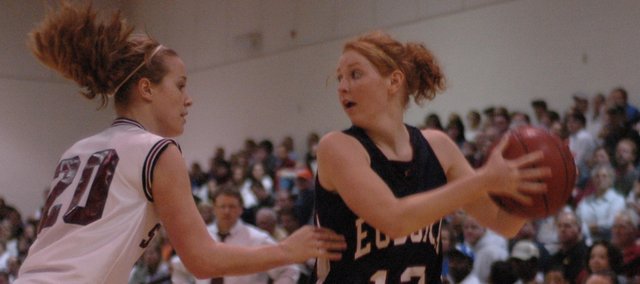 There are no easy wins at the state tournament, and the Eudora girls have a tough task ahead of them in playing second-seed Concordia Thursday at the Bicentennial Center in Salina.
Concordia (23-0) is led by 5-foot-7 junior guard Karly Buer, who averages 19 points a game, and 6-foot senior post player Alex Muff at 17 points a contest. Concordia beat the Lawrence High girls earlier in the season.
"They're good," Eudora coach Ryan Luke said. "But we played a tough schedule, and I think we're prepared to play for another challenge. So I think we'll be up for it; there's no doubt about that."
Luke said Buer liked to shoot off the dribble, and Muff, in addition to her height, also jumps well.
"It'll be a tough challenge, but it's pretty hard for me to believe that we haven't seen good players," Luke said. "I mean, we've seen a lot of good players this season. So we'll be ready for them."
Eudora is led by 5-foot-8 senior post player Haley Epperson. Epperson averages 14 points and seven rebounds for the No. 7 seed Cardinals. Eudora, 16-7 on the season, has a good shooter in senior guard Bailey Scott, who averages 10 points a game. Senior guard Rachel Pyle runs the Eudora offense and chips in three assists a game, and senior Kendal Abel is all hustle.
Luke said Eudora would try to establish Epperson inside early, but said his team's defense would be a good indicator of how the game goes.
"I think first for us, the reason we've been doing really well is the fact that we're playing really good defense," Luke said. "So we've got to get that going again and play good defense and put some stops together and execute on offense."
Epperson said the squad was aware of the challenge it faces, but she also said don't count the Cardinals out.
"We know they have some really good players, but we can match up with them," Epperson said. "I think we're all really confident and ready to go."