EMS

students help organize fundraiser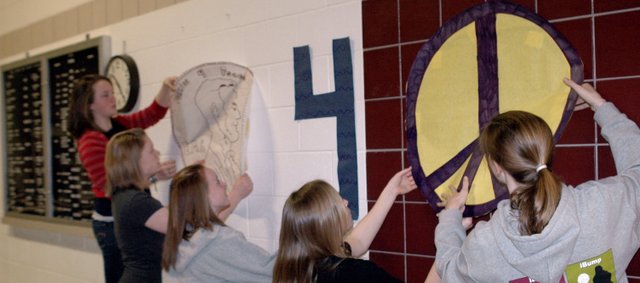 Students at Eudora Middle School are ignoring the adage, "don't sweat the small stuff" by taking part in a fundraiser called "Pennies for Peace."
The students' goal is to collect pennies to build schools for children in remote areas of Pakistan and Afghanistan.
"Pennies aren't worth much to us, but to them they're worth a lot," eighth-grader Danelle Topil said. "They can get a lot out of a few pennies."
Greg Mortenson, author of the book "Three Cups of Tea," started the fund-raising effort in 1996. "Three Cups of Tea" chronicled Mortenson's failed attempt to scale the world's highest mountain, which then led him to a small Pakistani village. He was touched by the kindness of the villagers and returned to build more than 55 schools throughout the impoverished region.
EMS science instructor Dan Kuhlman read the book and decided Pennies For Peace would be a good activity for students at EMS because it would demonstrate how they could make a difference using something as seemingly inconsequential as pennies.
"The point is to take things that you'd naturally come across that you normally wouldn't pay any attention to — like a penny — and see that 300 people collecting these things over two months can help pay for a new school," Kuhlman said.
However, this is not the typical fundraiser. There are no prizes for students who donate or collect the most, nor is there an amount the students hope to reach. It's simply about becoming philanthropists and giving for the sake of giving.
"We're trying to get them to realize in eighth grade before they go to high school that you do some things because they're just good to do," Kuhlman said.
There are receptacles for the pennies in classrooms throughout EMS, and there is a five-gallon jug in the EMS library.
Although Kuhlman got the fundraiser started on March 2, he said it's up to the students to sustain it until April 30.
"I wanted to get it rolling and then turn it over to the kids and let them run with it and do with it as they will," Kuhlman said.
Topil and fellow eighth-graders Emma Beck, Emily Durkin, Madison Maring and Claire Mersmann, under the guidance of their extended learning teacher Barbara Hartwell, have taken ownership and are creating a marketing campaign.
They have put up posters throughout the school and have begun to formulate interesting ways to mention the fundraiser in daily announcements. They also will look into placing jars at various locations throughout the community.
And although the girls haven't yet finished reading "Three Cups of Tea," Hartwell said one point that has galvanized them in their efforts is the fact that many of the schools built have positively affected the female population of Afghanistan and Pakistan — a segment of the population that has not historically been allowed to attend school as much as their male counterparts.
"It's the opposite here because they (Americans) respect girls, but over there they don't treat them very well or give them all of the supplies that boys get," Madison Mersmann said. "Boys come first there."
Hartwell also said the fact that their work will directly affect other kids has been important.
Mersmann also said it was crucial for students to learn to give now so they will know to do it throughout their lives.
"I think it's very important because that way when you're older and you have more, you will give what you don't need," she said.
Although the girls realize they could give to needy people in America, Emma Beck said that the opportunities available in America do not exist in Afghanistan.
"Something that's worth so little to us can make a huge difference there," Mersmann said.
The girls hope to bring the fundraiser with them next year when they are in high school.
Visit www.penniesforpeace.org for more information on the international foundation behind the fundraiser.