Third time's the charm
Girls top St. James 42-25, win sub-state title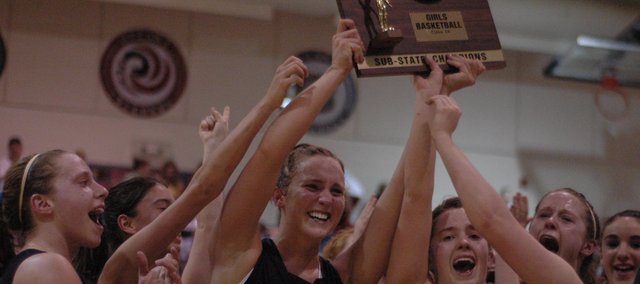 The celebration started a little early. With 30 seconds to go in the game, the Eudora student section couldn't wait any longer and started the chant: "Sub-state champs."
Champs the Cardinals were, cruising to a 42-25 win over St. James in the 4A girls sub-state championship game Saturday in Eudora.
After reaching the sub-state final the last two years and falling short, the Cardinals broke through this time and are headed to the state tournament for the first time since 1992.
"Obviously that was the No. 1 goal for the season," Eudora coach Ryan Luke said of making it to state.
The Cardinals (16-7) are seeded No. 7 in the tournament. They will play No. 2 Concordia (23-0) at 3 p.m. Thursday at the Bicentennial Center in Salina.
"We'll take it one game at a time," Luke said. "That's our philosophy from here on out. You just never know when you get to the state tournament. Anybody can do it. If we continue to play as well as we are defensively, we've got a great shot."
In the final against St. James, Eudora senior Haley Epperson scored a game-high 14 points on seven field goals and pulled down nine rebounds. Epperson was double-teamed much of the night but still hit turnaround jumpers from the low block.
"We just stepped up to the challenge, all of us," Epperson said. "And it felt good the whole game. We never let our guard down and it was just really nice to have everyone playing on the top of their game. And right now, it's indescribable the feeling. It's amazing."
Eudora led 18-13 at halftime and 24-19 at the end of the third quarter. Eudora turned the ball over late in the third, but St. James turned it over right back on the in-bounds play. With just six seconds to play in the third, St. James went to a full-court press, but Eudora used quick passing to beat the press, and freshman Jennifer Bowser streaked down the court for a layup to give Eudora a five-point lead and momentum heading into the final period.
"I like the fact that she's a freshman and took the ball right to the basket," Luke said. "She's not afraid. It was awesome to see. That was a huge play and it got us back to a five-point lead. It got us back to where we want to be."
In the fourth quarter, Eudora's defense swarmed and held the Thunder to six points, while Eudora countered with 18.
Junior guard Evan Folks hounded St. James' top shooter Mica Spradlin all game long. Spradlin, who hit four threes against K.C. Sumner Friday night, went scoreless in the game.
"Evan Folks played great defense," Luke said. "She's tough, just gritty and a competitor. That was huge for us tonight not letting No. 13 (Spradlin) have easy, open looks."
Eudora advanced to the sub-state final by beating Spring Hill, 51-36, last Tuesday night. The Cardinals played strong defensively against the Broncos and followed that up with another solid outing Friday against Piper.
Shea Lounsbury's free throw with 14.4 seconds to play put the Eudora girls up four points, and the Cardinals knocked off Piper, 51-47, to reach the sub-state final. Lounsbury scored four points in the game, and her hustle and defense off the bench energized the Cardinals. Lounsbury had eight rebounds, two assists and a late block to preserve Eudora's win.
"If we had not played like we had with all of our emotion and all of our hustle, we could not have won that game," Lounsbury said. "We talked through the whole game. Our intensity, it was amazing."
Lounsbury's late free throw came after missing on her first attempt.
"The first miss was scary," she said. "I was just thinking, 'OK, relax. I can do this. Just shoot and make it.'"
Epperson led Eudora with 16 points against Piper, nine of them coming in the second half. Bailey Scott scored 15 points, hit a three, had three steals and went 8-of-8 from the free-throw line. Eudora went 21-26 from the stripe for the game against the Pirates.
"They stepped up," Luke said. "I don't want to say that I knew they would, but I knew they would because that's the kind of people they are. They don't give up on things. They step up when it's time. I can't even pick out one person in particular. It was a team effort. They did a great job."
If Eudora wins Thursday, the Cardinals will play the Paola-Rose Hill winner at 3 p.m. Friday.
"We've come a long way since Day One," Epperson said. "Coach Luke has done a great job with us. Now it's up to us to see if we can be state champs."
More like this story