Upset falls short
Girls lose to state champ Concordia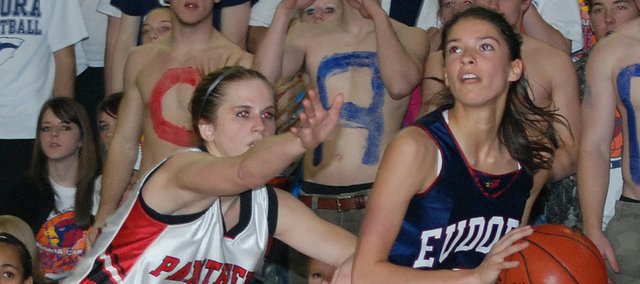 Photo Gallery
Eudora girls fall to Concordia in state quarterfinals
SALINA – Kendal Abel had tears in her eyes as she left the Eudora locker room. Bailey Scott didn't cry, but the sad expression on her face was a mirror image of many of the Eudora players as they left the locker room.
The No. 7 seed Eudora Cardinals nearly pulled off the upset against No. 2-seed Concordia, but fell eight points short and ended their season with a 63-55 loss Thursday in the state tournament at the Bicentennial Center in Salina.
The Cardinals trailed by 16 in the third quarter, but a furious comeback fueled by Eudora's full-court defense cut the lead to four at 59-55 with 1:24 to play in the fourth. But Concordia answered with four late free throws by Heather Bergmann and Alex Muff to preserve the win.
" I can't say how proud I am of their effort," Eudora coach Ryan Luke said. "They just hung with it."
Eudora spotted the Panthers six quick points to start the game, but the Cardinals answered right back on a free-throw line jumper by Haley Epperson and a three-pointer by Rachel Pyle, but Concordia led 15-11 at the end of the first quarter, and 37-24 at the half.
"I know they were hanging their heads a bit at halftime, but that's what we talked about to just stick with it and keep attacking the basket," Luke said.
Both teams were in foul trouble in the second half, and Eudora sliced six points off the halftime lead in the third quarter as the Cardinals got Epperson going inside. The 5-foot-10 Epperson went right at Muff and Concordia's 5-foot-10 post player Paige Champlin. Epperson scored 12 points in the quarter, and Muff and Concordia guard Karly Buer had to sit with four fouls.
With Buer on the bench, Concordia had trouble bringing the ball up the court. That's when the Cardinals made their run. In the second half, Eudora had just one turnover, while Concordia (24-0) had 14, including nine in the third quarter. Eudora put up 15 points in the third, and held Concordia to nine.
Eudora's defense continued to swarm, and Scott, Pyle and Evan Folks recorded steals in the second half and hit layups. But twice in the late going, Eudora got steals in the backcourt but missed layups.
Buer answered those misses with two late drives through the paint for buckets, which pushed Concordia's lead to 59-51 with 2:10 to go. Eudora again answered, as Scott and Epperson hit field goals to cut the lead to four, but the Cardinals couldn't quite complete the comeback.
Epperson made 11-of-18 shots and led Eudora with 24 points. Scott had 18 and one three-pointer, and Pyle and Abel had four each for Eudora. Champlin led Concordia with 19, Muff scored 16 and Buer added 15.
The Cardinals end their season at 16-8. It was the first time since 1992 that the Eudora girls made the state tournament. Concordia went on to win the state title.
"It's a bittersweet ending," Epperson said. "We got this far. It was our No. 1 goal. We wanted to win obviously, and for us to play the game that we did and to comeback from that hole was really incredible. And playing with these girls like the way we did, I will never forget it."
1 2 3 4 F
Eudora 11 13 15 16 55
Concordia 15 22 9 17 63
Eudora: Epperson 24, Bailey Scott 18, Rachel Pyle 4, Kendal Abel 4, Evan Folks 2, Jennifer Bower 2, Mariah Webb 1.
Concordia: Paige Champlin 19, Skye Balthazor 2, Karly Buer 15, Alex Muff 16, Heather Bergmann 7, Kaitlin Woellhof 4.
More like this story