Epperson, Scott combine for 42 points in final game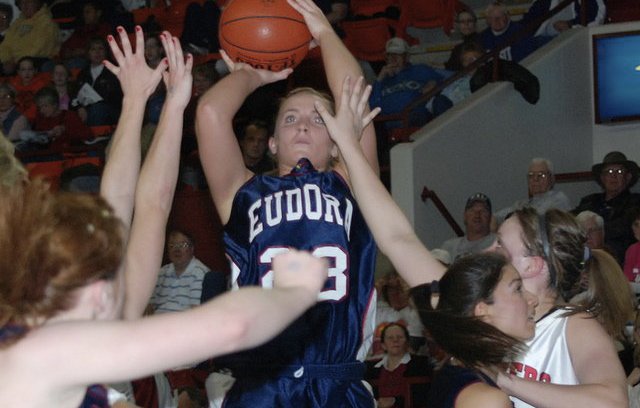 Seniors Haley Epperson and Bailey Scott faced off against two quality players in Concordia's 6-foot-1 post player Alex Muff and 5-foot-7 guard Karly Buer Thursday in the quarterfinals of the state basketball tournament in Salina.
Epperson and Scott held their own, and combined for 42 points in Eudora's 63-55 loss to eventual state champion Concordia.
Epperson, who was double-teamed much of the game, also had to battle against a player her own height in 5-foot-10 Paige Champlin. The Panthers' defense held Epperson to six points in the first half, but Epperson went right at the Concordia duo and scored 18 points in the second half.
"She's a great offensive player," Eudora coach Ryan Luke said. "She does a good job of driving the ball to the basket. We knew if we could get her the ball facing up and kind of get going toward the basket that would really be beneficial for us. And she did a really good job of that. And she made some nice buckets at the end."
Epperson hit 11-of-18 field goals in the game, and scored 12 points in the third quarter and helped lead the Cardinals back from a 16-point deficit early in the third to end the quarter down just seven points.
The Cardinals fed Epperson the ball all game long, and eventually Muff and Buer had to sit with four fouls.
"We had them in foul trouble some, and that really was the key I thought for us," Luke said "Their main ball-handler (Buer) had to sit for a quarter and that was good for us. And then we could put a little pressure on them and our kids understood that and they really responded well."
Senior Rachel Pyle and junior Evan Folks recorded steals in the second half, but Folks was in foul trouble much of the game, which hurt Eudora on defense. But Scott, Pyle and Kendal Abel hustled after loose balls and created turnovers, which helped Eudora get back in the game.
Scott scored 18 points off 6-of-11 shooting and had six in the final quarter.
"Wow, what an unbelievable player," Luke said of Scott. "What an unbelievable effort. She never gave up. She was exceptionally good tonight. I can't say enough about those two seniors and all the others ones. They're awesome seniors and a great bunch of kids."
Three times during the game, Scott drove right through the Concordia defense for easy scores.
"I just tried to stay focused and drive the ball," Scott said. "We knew No. 5 (Buer) was a really good player, so we just tried to take it right at her the whole game."
Though the Cardinals fell eight points short, Luke was pleased with the effort his team gave at the state tournament.
"I'm really proud of our kids' effort," he said. "It was a lot of fun to play and a lot of fun to get back in it the way we did."