Bull riding the perfect sport for Eudora teen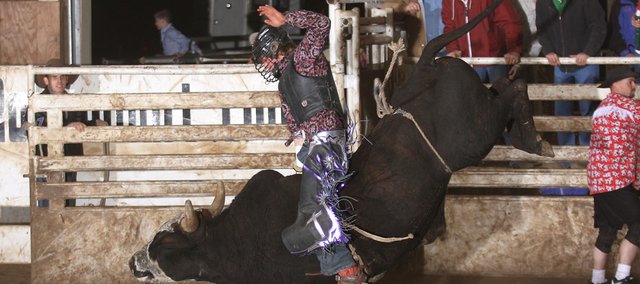 In the seconds before the gate swings open, Caleb Hines is focused and yet a little bit on edge. He knows he has to maintain good form to stay centered on the bull's back. He also knows his opponent is much bigger and faster than he is.
"I'm always nervous before I get on," Hines said. "You're competing against a 1,000 or 2,000-pound animal. But once that gate opens, all of that turns into an adrenaline rush."
For Hines, a junior who attends the Eudora Community Learning Center, bull riding is a sport that has given him much excitement and enjoyment over the years. When he was just 3, he was sitting on his grandfather Carl's lap watching bull riding on T.V. The younger Hines told his grandfather that bull riding was what he wanted to do.
Hines began riding sheep when he was 3 and has been to many bull riding schools since he was about 5. Hines currently practices at a homestead school in Richmond.
Hines has received a few accolades over the years. In November he took first-place in the URA Finals in Topeka and took second-place at a competition in Fort Scott. Hines is currently competing in the United Rodeo Association.
Hines is fully aware of the dangers the sport presents. A few weeks ago in Columbia, Mo., he was bucked off a bull and flipped over the bull's neck and hit the ground. It took a few days for him to recover from the spill.
Hines, though, takes safety measures that are not required by the association. He wears a custom-made "bull-tough" helmet that is specifically designed for bull riding that features bars across the face for protection. Hines also wears a padded vest in case he gets stepped on.
"My choice is, if I ever get an injury or something, I don't want my face hitting the bull's horns or something like that," Hines said.
Hines' mother and grandparents have witnessed a few close calls during his career, but his grandfather says he is not as concerned as others.
"I don't think I ever get apprehensive with him because I know the talent he has," Carl said. "He's been doing this for a long time and it's something he's always wanted."
Hines has set his sights farther than just competing in high school. By the time he finishes high school, he wants to be competing in the Professional Rodeo Cowboy Association. After that, he hopes to someday work his way up and compete on the Professional Bull Riders tour. And Hines has already received a few pointers about the pros by attending three schools put on by Mike Lee, the PBR's 2004 champion.
While many other kids his age are competing in more traditional sports, Hines said there was no other sport for him than the sport he fell in love with when he was just three years old.
"I just love what I do," he said. "I love bull riding."