Neighbors: Matt Montgomery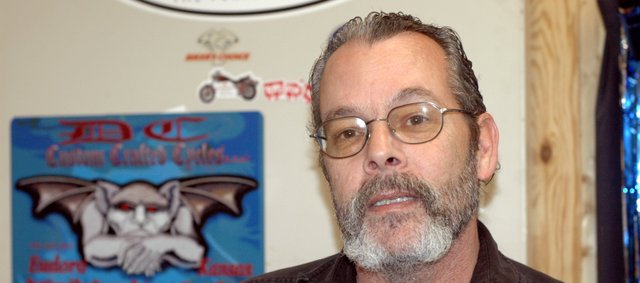 Occupation: Owner and operator of DC Custom Crafted Cycles, 726 Main St.
Family: Wife, Tina Montgomery, two sisters, a brother and a stepfather
Q: How long have you lived in Eudora, and what brought you here?
A: I've lived in Eudora since 1991 and I grew up in the area. What brought me here, at the time, was lower taxes and a slower pace of life.
Q: What is the best advice you've ever been given?
A: Do unto others as you'd have done to you.
Q: What is the biggest risk you've ever taken?
A: Skinny dipping at Lone Star Lake.
Q: What are three things people should know about you?
A: I care about our future, I'm honest and I'm trustworthy.
Q: What are three of your pet peeves?
A: Bad drivers, politicians who lie and dishonest people in general.
Q: When you were a child, what did you want to be when you grew up?
A: I wanted to be a cop.
Q: What is your ideal vacation?
A: I've got two: Vegas and Sturgis.
Favorite things
Song:
"Something to Believe In" by Poison
Favorite movie:
The original "Gone in 60 Seconds"
Book: "The Adventures of Tom Sawyer" by Mark Twain
Food: My wife's homemade mostacholi