Strength in numbers
Twelve seniors look to lead veteran
EHS

club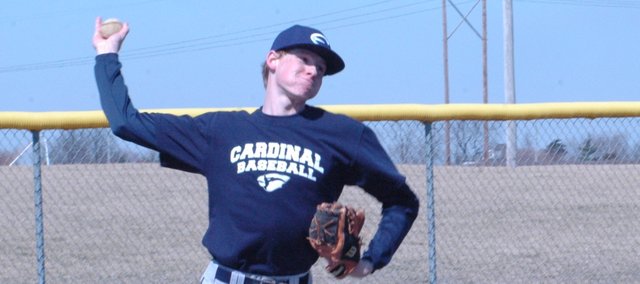 If strength is in numbers, then the 2009 Eudora baseball team could be pretty strong as this year's club features 12 seniors.
"We could have our entire lineup be seniors," coach Shaun Edmondson said. "But we also have some good juniors and underclassmen, too."
The Cardinals open their season against St. James at 4:30 Thursday at home. Edmondson said he wasn't too concerned with scouting St. James; instead he was focused on learning about his team.
"Some coaches spend a lot of time worrying about the opponent, I just focus on us," he said. "We have to do things right in order to win games. It doesn't matter who we're playing. Our focus is to play the game to the best of our abilities."
Eudora could be strong pitching-wise this year, as seniors Craig Harper, Michael Bricker and Bryan Dudley and junior Drew Noble could see time on the mound.
"The more arms you have, the better off you're going to be," Edmondson said. "We have a lot of guys who are capable of throwing a lot of strikes. More than anything, that's the No. 1 attribute of a good pitcher is being able to throw strikes. And we have a lot of guys who are capable of doing that."
Edmondson hadn't settled on a hitting lineup yet, but the Cardinals return some quality hitters from last year's 11-10 team including Harper, catcher William Gadberry and others. The Cardinals also could see a significant contribution from senior first baseman Bryan Kindle, who missed all of last year with an arm injury. Kindle said he enjoyed being able to practice again and wasn't about to let anyone not work hard in practice.
"We've gotten a lot better," he said. "We keep improving. I just try to make my teammates better every day. Some people might want to take a couple plays off, but that could cost us the game."
This year's squad must overcome the losses of last year's seniors, which included all-state center fielder Matthew Abel, Chad Krutz, Dylan Rust, Brian White and Morgan Abel.
"All of our seniors were big contributors last year, but they're gone now and there's no use crying over spilled milk," Edmondson said.
Matthew Abel, though, was back at practice last week working out with the team. Abel is currently playing baseball at Northern Oklahoma. Abel said he was impressed with the Cardinals' work ethic in practice.
"From what I've seen, they work hard," Abel said. "You can tell they want to win and coach Edmondson sets that as the goal. As long as they keep working hard and do the things they need to do, I think they'll be fine."
Edmondson said that one positive the players have done in practice was the they were pushing each other to get better each day because there are a few positions that are not locked up yet.
"There's a lot of competition," he said. "We have a very veteran club and they all have a chance to play. So competition is going to be fierce, which is a good thing. I think anytime you can have competition in a program that means guys are pushing each other and that's only going to make the team better."
The Cardinals also have some speed on the bases, which Edmondson said he would look to utilize every opportunity he gets.
"We like to run," he said. " We're an aggressive style team. We're fun to watch. If we can run on their pitcher, we'll run all day. We've got some good athletes and we play hard."
After St. James, the Cardinals will play their first road contest of the year in a doubleheader on April 2 at Gardner.