Track team still taking shape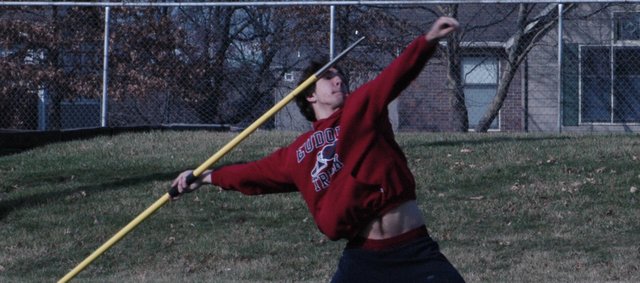 Three weeks into practice, it's still a little early to tell what the 2009 Eudora track team will look like. While the boys have been practicing regularly since practice began the first week of March, many of the girls are a little behind schedule because of state basketball.
Eudora begins its track season at 4 p.m. Tuesday at Wellsville, and coach Phil Katzenmeier said the opening meet might be a work in progress.
"I think for some of them, they'll have to work through it," Katzenmeier said. "It's going to be a tough meet as far as events that they're in because they're going to work them pretty hard. For some of the other ones, it's the first one that I've seen where they compete, so we're looking just to see kind of where they fit best and what's going to be the best event for them and kind of set some standards for them to show some improvement as the season progresses."
Key returnees for the Eudora girls include its 4x100 relay team of Rachel Pyle, Kendal Abel, Alisha Wingebach and Tianna Dunnaway.
Pyle, Abel and Dunnaway were busy with basketball, but the group has been together for four years and Katzenmeier said he thought the sprinters would be ready for Wellsville. The girls squad also returns Allison Hoover who set the school record in pole vault last year.
"She has done a good job of taking on a leadership role as a senior," Katzenmeier said.
Perhaps one of the biggest challenges the girls might have is replacing the loss of Emily Ballock to graduation.
For the boys squad, returning seniors include javelin thrower Ben Katzenmeier, shot put and discus thrower Cody Carlson, sprinter Ryan Fisher and mid-distance runner Carlos Canizales. The Cardinals also return junior hurdler Justin Ballock.
For Ben Katzenmeier, who finished sixth last year at regionals in javelin, he has been working to improve his technique during the early practices.
"You can be a lot stronger than somebody else, but if you have terrible form, they're going to beat you," Ben Katzenmeier said. "A lot of people want to throw it like a baseball, but if you do that, the back of it's going to come around and hit you in the back of the head. You can't turn your wrist or it's going to nail you. The release is probably the hardest to get down."
While the Cardinals will look to have a strong showing on Tuesday, the coach said the team's early season goals were to make the athletes better in May than when the season began. And May, of course, is when the league, regional and state competitions are held.
"When it comes to league, we want to get the best showing that we can and score as many points as we can," Katzenmeier said. "And regionals and state, we just want to get as many kids qualified for the state meet as we can because that's quality event."
More like this story