Wrestlers ahead of the curve in '09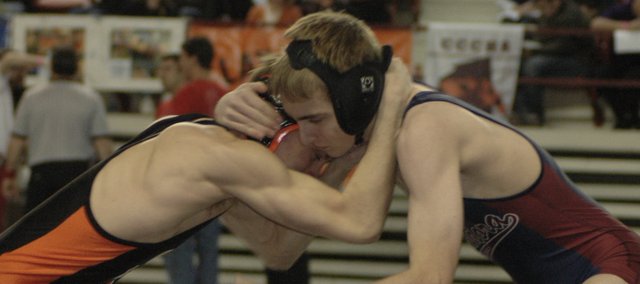 The Eudora 2008-2009 wrestling squad was one of the youngest that coach Bill DeWitt has had at Eudora.
But even with all the freshman and sophomores, four wrestlers – all underclassmen – advanced to the state tournament in Salina.
Sophomores Boomer Mays (215) and Caleb Clayton-Molby (189), and juniors Cody Salzman (112) and Thomas McLees (119) were the four Eudora state qualifiers.
Salzman took home the sixth-place medal at state, and DeWitt said having four returning state qualifiers could bode well for next year.
"For having all underclassmen, with those guys having an opportunity to return next year and build that team around with some kids with some state experience is going to be exciting," DeWitt said.
DeWitt said he hoped next year's team would build of the success of this year's. The Cardinals won numerous duals and finished third at the league meet. Mays also was the league champion in his weight class. And at regionals, Eudora had two wrestlers advance to the finals. DeWitt that despite his team's youth, the squad improved steadily over the course of the season. DeWitt said that improvement made this year's squad a little better than last year's because it made the team more balanced.
"Last year at regionals, we didn't have anybody in the finals," DeWitt said. "All my seniors qualified by taking either third or fourth. This year we had two sophomores (Mays and Molby) in the finals, which is certainly a big step. Those are things you can build on from one year to the next."
Mays and Molby both battled nagging injuries over the season, but by league, both had already shown they had the capability to make it to state. And together with Salzman, who was one of Eudora's most consistent wrestlers all season long, and McLees, who was on the junior varsity squad all last year, the four could return to state next year, if they are hungry enough, DeWitt said.
"They'll have to be because there will be more expectation on them right away," DeWitt said. "When you're a state qualifier, you've been there and people kind of know your name. So there's certainly going to be a lot more expected of them, plus they are all a year older.
"But the other reality too is in the next nine months, they're going to have to improve and do some wrestling in the offseason. That's the difference between consistently placing in the top of the state and just kind of making it to the state tournament."
DeWitt said he wanted the kids to get between 75 and 100 matches in over the summer. And DeWitt added that with a talented eighth-grade class, the squad could be even better next season.
"We have a good eighth-grade class coming in, and we have an opportunity to be really, really good next year," DeWitt said.