Kindergarten instructor named teacher of month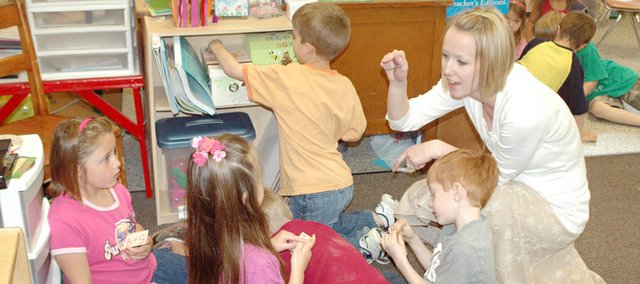 The end of the year is the part that Nottingham Elementary kindergarten teacher Stephanie Green really enjoys, but not because it means the year is over.
"I like watching how the kids progress through the year," Green said. "Maybe they come in with nothing and then by the end they're reading and writing and they're able to add and subtract. So, it's just really great to see them grow and change."
Green's peers voted her the Eudora Chamber of Commerce's Teacher of the Month for April.
The Wichita State University graduate said the award was a pleasant surprise.
"I was shocked because I just come to school and do my job the best that I can," Green said. "It felt good to know that other people realize that you're doing your job well."
She has been teaching for five years and became a teacher because she always liked working with children and wanted to be like the good teachers she had.
Though she certainly is not a new teacher, she said she still learns as each year passes because of the different students who pass through her classroom.
"It's great to teach kindergarten because they are excited about school and when you do something new, they think you're great," Green said.
However, NES Principal Jim Lauer attributed student excitement in Green's classroom to her teaching style.
"Her students come in and they're excited to come to class and do things because she makes it fun and entertaining," Lauer said.
Lauer also said Green was a mentor to teachers old and new.
In her spare time, Green likes to read and spend time with her husband, Ben, and their family.