West students enjoy fresh take on snacks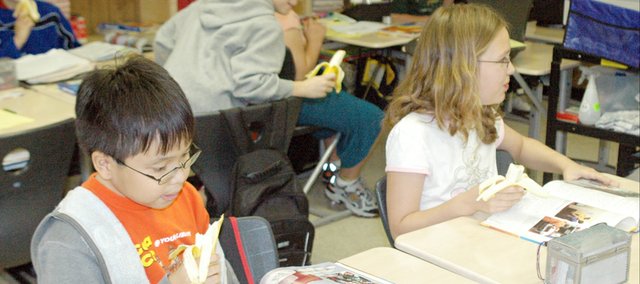 It's not hard for fifth-grader Griffin Katzenmeier to come up with an answer for what he likes about the Fresh Fruits and Vegetable Program at West Elementary School.
"It's food, and I like food," he said, as though his response was a given.
The program, which began at West in October, is a federally funded grant that enables the food services department to distribute fresh fruits and vegetables throughout the school in addition to what is served at meal times.
Eudora School District Food and Nutritional Services Director Cindy Johnson applied for the grant despite the fact that the district didn't meet all of the requirements — most notably not having a 50 percent of students on free and reduced lunch.
About 33 percent of students in the district are on free or reduced lunch.
"Not many districts were aware of the grant so I figured 'we meet 75 percent of the criteria, so why not apply,'" Johnson said.
The district was given about $18,000 in funding, though it only has used about $10,000 to date.
Johnson, who has been with the district for about seven years, made a point of making the program user-friendly for the already busy teachers.
Students pick up the fruit from a cart that is centrally located and bring the fruit to their classrooms. Typically, one type of fruit or vegetable is served each day. Food service employees wash items that require it.
Apples, oranges, kiwi, strawberries, bananas, carrots and cucumbers are some of the items that have been served.
In order to ensure that students and staff do not catch any virus as a result of eating the food, Johnson and the school nurse both did a unit on handwashing, as well.
Kateznemeier's teacher, Tempest Stein, said the snacks have become a favorite part of the day for students.
"There's really not a necessity to encourage them to eat it, but they love it because they're getting a snack at school," Stein said.
Stein's students realize the benefits beyond simple sustenance, though.
"For people who don't get to have breakfast at school or at home, they get to have food before lunch and they're not starving to death," Katzenmeier said.
His classmate Halee Darling said it made her more alert, and that lessons Stein has taught the class had made her cognizant of just why that was the case.
"It has really good vitamins and minerals," Darling said. "Without vitamins and minerals, you'd be all sluggish."
Ayran Spencer also said the fruit helped her stay more focused during assessments.
"Children have higher metabolism and by the middle of the morning, they've run out of food and they're hungry," Stein said. "So, it really does help them pay attention because it gives them a boost of fuel in their little bodies."
Johnson said she didn't think the district would qualify next year for the grant because more districts were aware of its existence.
But like last year, that won't stop her from applying again. However, she might have to make some changes to the program because it would be at the new elementary school.
"If we do get it next year, I might not start it right away because we'll have so many new people over there (at Eudora Elementary School)," Johnson said. "I would probably start in October."