Almost perfect
Scrimsher takes no-hitter into 7th, Cards sweep Cats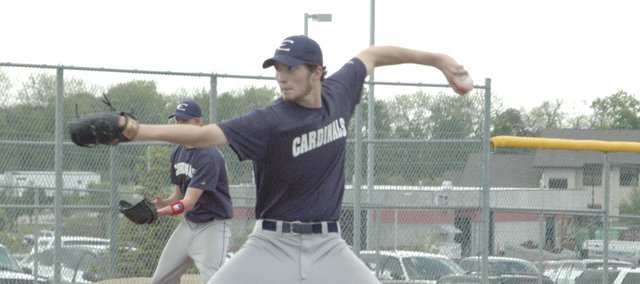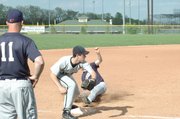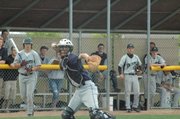 Derek Scrimsher leaned over the rail with a relaxed smile in the top of the seventh inning knowing he had a no-hitter going in Game One of Eudora's doubleheader against De Soto Monday night.
Already up five runs, Scrimsher remained focused as Eudora tacked on two more in the seventh. Scrimsher said he wasn't worried about completing the no-hitter. He was just concentrating on throwing strikes.
"I just concentrate on getting outs," Scrimsher said. "I don't care if I throw a no-hitter. That'd be great for the books and everything, but it's not a No. 1 priority for me."
Scrimsher hit the first De Soto batter he faced in the seventh, and the no-hit bid ended when the next batter hit a bloop single that landed just between shortstop Craig Harper and center fielder Bryan Dudley. De Soto hit another single and scored one run to also nullify the shutout, but Eudora won the game 8-1 and beat De Soto 6-4 in the nightcap for the sweep.
Eudora coach Shaun Edmondson noticed Scrimsher's composed manner when he was on the mound and in the dugout, and said that was a characteristic of the Eudora team.
"That's a big philosophy of our whole program because throughout the course of a game, in a doubleheader, you're going to have a million things go against you," Edmondson said. "It happens all the time. A guy will misplay a ball or we'll get a bad hop or the umpire will call something that we don't necessarily agree with, but that's just part of the game. So we just play through it and we don't allow those little things to affect us. We look at the bigger picture and stay composed and play pitch by pitch."
While Scrimsher was nearly unhittable when the Wildcats put the ball in play, it wasn't a perfect outing, as he walked four batters and hit two others. Scrimsher, though, fanned six batters.
Scrimsher walked two batters to begin the fifth, as he briefly struggled with his command. Scrimsher then retired the next two batters on a ground out and a fly out. With runners at second and third, Scrimsher battled back and got De Soto to hit a long fly ball to the gap in left-center. Dudley sprinted in and made a diving catch to end the inning with the no-hitter still in tact.
"I started to get down a little bit and couldn't find my spot and I wasn't finishing," Scrimsher said. "But Dudley, he comes through with those catches and they boost me back up and gets me ready to start throwing again."
While Dudley's catch was spectacular, it has kind of become a habit for him.
"That's a big-league catch right there," Edmondson said. "He's made quite a few of those throughout the year. He's become a tremendous outfielder defensively and he can get baseballs in both gaps behind him and in front of him."
Joel Lauer had two doubles and two RBIs in the first game, and Eudora tallied nine hits in the contest. In the nightcap, Eudora scored one run in the first, three in the third and two in the fourth.
Harper started the second game and pitched five innings and gave up four hits, four walks to go with eight strikeouts. Harper got the win and is 6-0 on the season. Dudley pitched the sixth and seventh to get the save. Bryan Kindle had two hits in the nightcap and also made two sparkling plays at first base in the opener, as he handled a low throw and tagged a runner diving back to the bag and later caught a popup near the bag and then tagged out the runner who was still standing in the baseline.
"We're starting to swing it a lot better," Harper said. "And our pitching and defense has always been pretty solid, so and once we got our bats going, we were going to be a force to be reckoned with."
Eudora played Winfield and Emporia last weekend and went 1-1. The Cardinals lost to Winfield and then beat Emporia 5-3. Michael Bricker pitched all seven innings against Emporia and struck out six and walked none.
After Eudora's loss to Winfield, the team returned to Eudora and practiced that night, Edmondson said.
"Ever since then our focus has gotten better and we've made more of the routine plays," Edmondson said. "And that's the key for us. If we make routine plays and throw strikes, we can execute offensively. So that's the recipe of success for the Eudora Cardinals."
With the doubleheader sweep over De Soto, Eudora ends the regular season at 14-6 and will begin regionals Monday at Eudora. The Cardinals are the No. 3 seed and will play Baldwin at 4:30 p.m.
More like this story