5 Questions:
EHS

counselor looks forward to graduation ceremony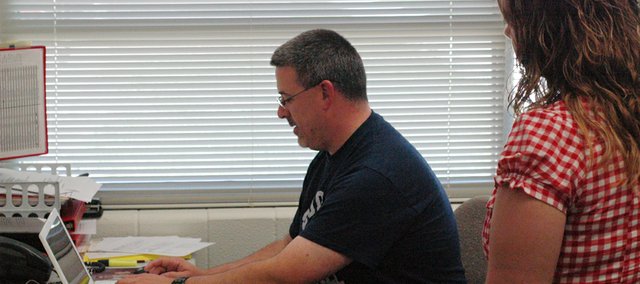 The Eudora High School counselor Paul Walrod discussed this Saturday's EHS graduation ceremony.
Parking will be available at both EHS and EMS. Two busses will shuttle attendees who park in the Eudora Middle School lot.
Shuttle service will begin at noon and will continue for about one hour after the ceremony is finished.
The Eudora School District requests that patrons not park on the grass between the two schools.
Q: When and where is the graduation ceremony?
A: Graduation is 1 p.m. Saturday in the Eudora High School gymnasium.
Q: How many students will graduate this year and how much scholarship money did the school receive?
A: We will have 87 graduating seniors. As of May 9, this year's graduating class has been offered over $550,000 in scholarships for the 2009-2010 academic year.
Q: Who will be the speaker and how were they chosen?
A: This year's graduation speaker will be Mr. Bill DeWitt, current EHS social science teacher and wrestling coach. The senior class chooses the graduation speaker, and Mr. DeWitt will actually be leaving Eudora this year for an principal position in Hays.
Q: Even though this happens every year, is it still special to you?
A: Every year is special because each graduating class is special. Every class has its unique people, situations and stories of success. This group is no exception.
Q: Do you have a favorite part of the ceremony?
A: I enjoy the processional the most. I position myself at the spot where the students turn to go down the center aisle to their seats and I shake each hand and congratulate them.
More like this story