Track looks to bounce back at league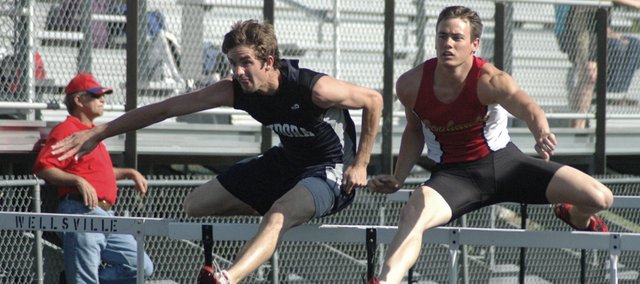 With a little more than two weeks remaining in the season, Eudora track coach Phil Katzenmeier hopes his team is saving its best performances for last.
After a sub-par performance at Wellsville last Friday, the Cardinals are looking to have a better showing at Thursday's league meet at Louisburg.
"We're kind of at the pinnacle of our season with regionals and state," Katzenmeier said. "That's what we really shoot for. We want to get as many points as we can at league and then have as many people perform their best at that point. And I think we will."
At the Redbud Relays, the Eudora girls scored 45 team points and the boys tallied 18. While the Cardinals didn't do as well as they would have like to points-wise, several athletes had notable performances and season bests.
For the girls, Allison Hoover won the pole vault and tied the meet record by clearing 10 feet. Kendal Abel broke her own school record in the javelin and finished second overall with a throw of 121 feet. Mariah Webb finished fourth in javelin with throw 108-2, which was a season best.
The girls 4x800 relay team finished third with a season best time of 10:31, Kaya Riemann placed fifth in the 800 at 2:32.1, which also was a season best, and Joanna Male finished fifth in the 300 hurdles with a time of 50 seconds flat, which was a season best for her. Alisha Wingebach also placed second in the 100-meter dash with a time of 12.9.
For the boys, Justin Ballock finished third in both hurdle races, and in the pole vault Matt Huddleston placed fourth clearing 11-6, and Jacob Beck placed fifth at 10-6.
"It was just a tough meet," Katzenmeier said. "We had several people do pretty well in some events and had some personal records, but there was some pretty good competition going on."
The league meet begins at 3:30 p.m., and Katzenmeier said the competition at league would be equally tough.
"We'd like to score as many points as possible, that's for sure," he said. "There's going to be some really tough events in both the boys and the girls."