Cards cruise into second-round
Baseball tops Baldwin 12-4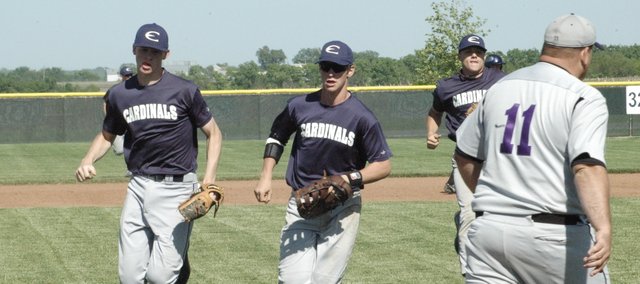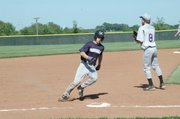 One down and two to go.
The Eudora Cardinals baseball team took another step closer to reaching the state baseball tournament in Salina by beating Baldwin, 12-4, in the first-round of regionals Monday at Eudora.
The Cardinals' offense came alive early and scored seven runs in the first inning.
"We just put the ball in play more today and actually made contact and let them make their errors and mistakes," senior first baseman Bryan Kindle said.
Leadoff hitter Evan Cleveland drew a walk to start the game and soon scored on a single by Nick Mills. Craig Harper then doubled and Kindle hit a two-run single to push the score to 3-0. After a fly ball out, Tyler Beebe singled and Drew Noble followed with a two-run double. Zach Bryant singles to left and stole a base, and scored on Bryan Dudley's double just inside the right field line to give the Cardinals a seven-run advantage heading into the second inning.
Baldwin scored four runs in the second inning off Eudora starter Michael Bricker, but after that Bricker threw five scoreless innings.
"I felt great the whole time," Bricker said. "I just had a hard time finding it that second inning. I put a couple over the plate that I probably shouldn't have and they hit it. After that I just settled down and settled in."
While Baldwin scattered nine hits against the Eudora starter, Bricker had three strikeouts and battled through some tough innings. Bricker coaxed several ground ball outs and also got some help from his defense. In the top of the first with one on and one out, Bricker threw a pitch that was lined to Kindle at first. Kindle threw the ball to second for the double play.
"That was big," Bricker said. "It came off the bat pretty good and I looked to see and he snagged it. It was a double play. It was a good momentum builder."
Bricker also helped himself out in the first when after a leadoff single he picked off the runner at first who was trying to steal second.
"That game was one of those games where we were able to take control early and never relinquished that control," Eudora coach Shaun Edmondson said.
Eudora (15-6) will play the winner of the Tonganoxie-Perry game at 4:30 p.m. Tuesday in Tonganoxie. Should the Cardinals win, they will play at 7 p.m. for a trip to the state tournament.