Exit in the second
Early mistakes doom Cardinals in second round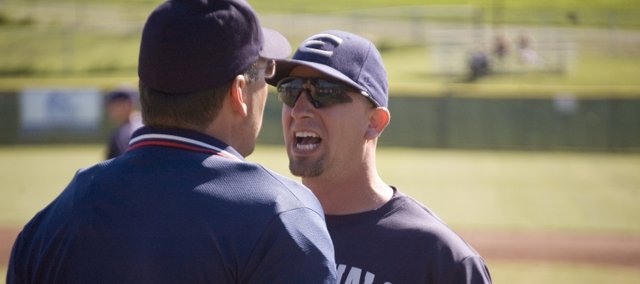 Photo Gallery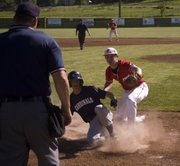 Eudora regional baseball
Eudora entered its regional semifinal with host Tonganoxie on Tuesday expecting to contend for a state tournament berth. But a couple of miscues cost the Cardinals in a 4-1 season-ending loss.
THS got on the board in the first inning after a Eudora error on a fly ball gave the Chieftains their first base runner. Later, in the second inning with two outs, another error allowed two more Tonganoxie runners to come home.
Eudora coach Shaun Edmondson said mistakes cost the Cardinals.
"In a 4A high school baseball game, that's ultimately the difference most of the time," he said.
Edmondson was ejected from the game in the second inning for arguing a play at the plate. Kyle Swanson was called out at home after trying to score on a passed ball. While arguing the call, the home plate umpire claimed Edmondson used profanity and gave him the gate.
"I didn't cuss at him," the EHS coach said after the game. "When I asked him what cuss word I used, he hesitated and didn't say anything."
Tonganoxie then scored three runs in the bottom of the inning to take control of the game.
The Cardinals (15-7) tallied just four hits in their finale. Nick Mills, Craig Harper, Bryan Kindle and Tyler Beebe each had a hit apiece.
Joel Lauer scored the team's only run in the top of the second after reaching on a walk.
Senior hurler Harper threw all six innings and struck out seven batters.
"It was a competitive baseball game," Edmondson said. "Ultimately, we just couldn't come up with enough situational hitting opportunities."
The Cardinals advanced to the second round with a 12-4 win over Baldwin Monday at Eudora. The Cardinals' offense came alive early and scored seven runs in the first inning against their rival.
"We just put the ball in play more today and actually made contact and let them make their errors and mistakes," senior first baseman Bryan Kindle said.
Leadoff hitter Evan Cleveland drew a walk to start the game and scored on a single by Mills. Harper doubled and Kindle hit a two-run single to push the score to 3-0. The Cardinals scored four more runs in the frame.
Baldwin scored four runs in the second inning off Eudora starter Michael Bricker, but after that Bricker threw five scoreless innings.
"I felt great the whole time," Bricker said. "I just had a hard time finding it that second inning. I put a couple over the plate that I probably shouldn't have and they hit it. After that I just settled down and settled in."
While Baldwin scattered nine hits against the Eudora starter, Bricker had three strikeouts and battled through some tough innings. Bricker coaxed several ground ball outs and also got some help from his defense. In the top of the first with one on and one out, Bricker threw a pitch that was lined to Kindle at first. Kindle threw the ball to second for the double play.
"That was big," Bricker said. "It came off the bat pretty good and I looked to see and he snagged it. It was a double play. It was a good momentum builder."
Bricker also helped himself out in the first when after a leadoff single he picked off the runner at first who was trying to steal second.
"That game was one of those games where we were able to take control early and never relinquished that control," Edmondson said.
Tonganoxie lost to Ottawa, 2-1, in the regional final.
Tonganoxie Mirror reporter Benton Smith contributed to this report.