EHS

Class of 2009 graduates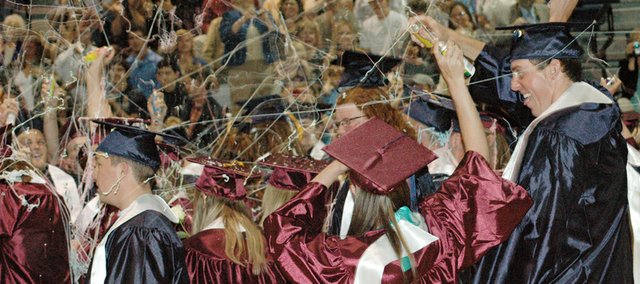 Before he addressed the 87 students in the Eudora High School Class of 2009, departing EHS social studies instructor Bill DeWitt said what impressed him about them was how close they were.
"They did a really good job of respecting one another," he said. "There are cliques and there are differences, but they're still a pretty tightly knit group.
The four 2009 valedictorians — Marian Mersmann, Rachel Pyle, Breaer Miller and JoAnna Male — proved his point during a video presentation they gave rather than have each of them make a speech.
Male did address the crowd, but then gave way to a video that featured all of the graduates talking about various memories and people who inspired them.
"We thought it would feel stuffy and self-important if we were to just up there and talk about ourselves because we aren't the only ones who are graduating today," said Mersmann, who will attend Kansas State University. "We wanted to give a taste of what everyone felt."
Graduate Nathan Gammon, who will learn to become an audio recording engineer at BRC Audio Productions in Overland Park, said that friendships he had developed were what he valued about growing up in Eudora.
"It seems like we're all kind of tight with each other and there's a lot of togetherness," Gammon said. "It doesn't really happen much (at other schools) and it's pretty cool that we're all still friends from early on."
While students like Gammon and Mersmann both said they were ready to move on, parents saw it as a bittersweet experience.
"It's great to see," said Brock Miller, father of senior class president Breaer Miller. "You have mixed emotions because you're glad they had a successful education, but at the same time you don't want it to end."
Indeed, several students had successful academic careers, as the group garnered about $550,000 in scholarships.
"This group had a lot to do with getting the national recognition for the high school from U.S. News and World Report," EHS principal Dale Sample said. "That's special to me."
DeWitt said he was especially honored to be chosen by the senior class as the speaker.
"It meant a lot," he said. "I've had the honor to do a lot of big things in my life, but this, honestly, is right up there. This is special to me, and I hope it will be for them."
What made it all the more meaningful is the fact that DeWitt found out about a week ago that he was named the principal of his alma mater, Thomas More Prep-Marian High School in Hays.
"It is a farewell for them, but also for me," DeWitt said. "This is kind of it for me with Eudora, so I go out with this class as well."
During his frequently humorous address to the students, he choked up when he reflected upon his time in Eudora. He also instructed the students to not let finishing high school be the biggest thing that happened to them for the rest of their lives.
Judging from the long list of scholarships they received, it won't be for many of them.