Track sixth at league meet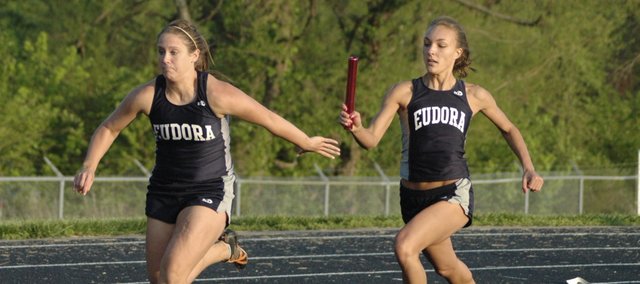 Injuries and illness cost the Eudora High track team some points Thursday at the Frontier League meet in Louisburg.
But despite not having the team at full-strength, the Cardinals had several athletes do well, and the Eudora boys and girls teams both took home sixth-place team finishes.
While there were no first-place finishers for the Cardinals, Eudora still had several athletes place at the meet. Justin Ballock placed second in both hurdle events for the boys, and lost to a runner from Paola.
"Justin will see him a lot in the next two weeks," Eudora track coach Phil Katzenmeier said. "He's kind of been his competition."
In the girls 100-meter dash, three Cardinals placed in the top 10. Seniors Alisha Wingebach placed second at 13.17, Tianna Dunnaway was fifth at 13.70 and Rachel Pyle was eighth at 13.98.
Senior Mike White finished sixth in the boys 100-meter dash with a time of 11.75.
"Their times weren't great, but they just competed well," Katzenmeier said.
The girls 4x100 relay team finished second, and the boys 4x100 relay team was fifth. The girls 4x800 relay team was also fifth. Senior JoAnna Male placed fifth in the 300-meter hurdles, and the Eudora 4x400 relay teams both came in sixth.
Eudora also had several notable performances in field events. For the boys, senior Cody Carlson placed fifth in shot put with a throw of 41-feet, 8-inches. Carlson also threw a season best 117-7 in discus.
Seniors Kendal Abel and Mariah Webb were second and fifth in girls javelin with throws of 114-9 and 97-9. Senior Ben Katzenmeier finished fifth in the boys javelin with a throw of 156-2 and Sam Merrill was seventh at 153 feet, which was also a season best for him.
Abel was also fourth in girls long jump, and Brian Katzfey was sixth in boys long Kendal Abel takes the baton from Alisha Wingebach in the girls 4x100-meter relay at the Frontier League track meet at Louisburg. The girls relay team finished second with a time of 51.41. The Eudora girls finished sixth overall as a team at the league meet. Next up for the Cardinals track team is regionals Friday at Santa Fe Trail.