USD

491 budget picture becomes clearer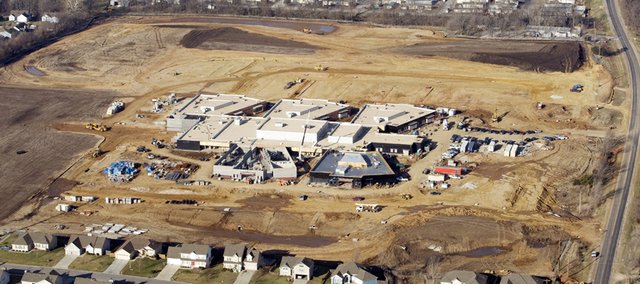 Eudora USD 491 Superintendent Don Grosdidier said that Thursday's Board of Education meeting was the first in some time that he has been able to tell the board exactly what to expect financially for the near future.
Legislators made a 2.75 percent cut to public school funding, and base state aid per pupil is down to from $4,433 at the beginning of this year to $4,280.
The district will not fill two elementary classroom positions, one ESL position, one auto collision repair position, one half-time reading position, one elementary library aide, one kindergarten aide and 10.5 assistant coaching positions.
Including the cuts made throughout the year, a total of $219,000 has been cut from the district's budget.
"You can't feel good about all of this, but it could be worse," Grosdidier said. "And I'm proud that our staff did advocate (legislators) on the district's behalf and were active."
Gov. Mark Parkinson also could make more cuts, and revenue projections in November also could lead to further cuts.
Grosdidier told the board that fiscal year 2012 is when things could get worse. Base state aid per pupil will decrease by $218 because it was made available by federal stimulus funds, and new facilities funds will also not be available.
"We're going to get hit on two ends, so unless there is economic or student growth, we're going to have to establish cash balances in order to not have to make extreme cuts," Grosdidier said. "It's critical to keep that in mind."
Grosdidier said the cuts made still would keep the student-to-teacher ratio at preferred levels, with the exception of a 23-to-1 ratio for fifth grade.
The district would prefer to keep ratios for kindergarten through second grade at about 17- or 18-to-1 and ratios in third to fifth grades between 18- and 20-to-1.
"We're not significantly over in the fifth grade," Grosdidier said. "But the other thing that's important to keep in mind is that so much of the instruction in reading and math is done in flexible smaller groupings anyway."
With summer approaching, the district now will begin to move elementary classes out of Nottingham and West elementary schools and into the new Eudora Elementary School.
In other actions, the board:
• Approved a purchase of 38 Promethean interactive whiteboards at a cost of $80,000, which is about 50 percent off the usual price.
• Approved a request for an allocation of $2 million in qualified school bonds. The bonds are part of $79 million dollars in qualified bonds made available to the state of Kansas by stimulus funds.
The bonds would allow buyers to receive a tax credit. However, since the bonds are federally funded, a union wage must be paid to all workers. As a result, the cost of construction could outweigh what is gained in debt service breaks.
The district will decide whether or not to receive the bonds if they are allocated and the funds likely would go toward the construction of the district stadium.
• Approved the social studies and technology curriculums.
• Approved the sale of a two-classroom modular for $15,000.
• Approved the meal prices for the 2009-2010 school year. Adult prices for breakfast went up from $1.40 to $1.50; adult lunch went up from $2.85 to $3; student breakfast remains $1.25; lunch for students in grades kindergarten through fifth went up from $1.90 to $2; lunch for students in grades sixth through eighth went up from $2 to $2.10; and lunch for high school students remains $2.25.
Costs went up because of business costs increased.