Eudora Aquatic Center likely will open this weekend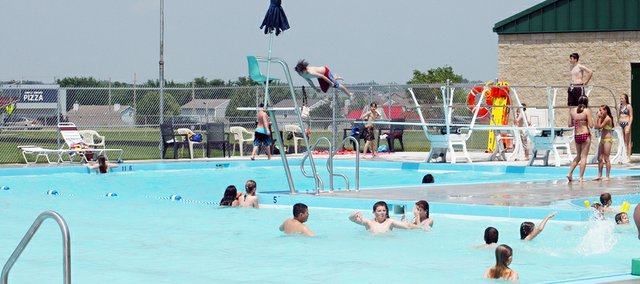 The Eudora Aquatic Center likely will open this weekend unless Mayor Scott Hopson and member of the Eudora City Council decides otherwise.
The pool was scheduled to open for Memorial Day Weekend but did not
Because of a new federal law that required all public pools to be retrofitted with suction entrapment detection devices to prevent the number of suction entrapment incidents that lead to injuries and deaths.
Parks and Recreation Director Tammy Hodges said an anti-vortex fitting likely would be installed on the main drain this week, and other various grates will be installed that would conform the pool to the standards of the law.
The Virginia Graeme Baker Pool and Spa Safety Act was enacted in December after 5-year-old Virginia Graeme Baker drowned when she became stuck in the suction drain of a spa.
Hodges said she and former Eudora city administrator Cheryl Beatty were aware of the law and called engineering firm BG Consultants, who oversaw construction of the pool in 2007. BG said the pool was up to code.
However, Hodges said Richard Ziesenis, environmental health director for Lawrence-Douglas County Health Department, told her last week the pool would need to be brought up to code.
If the city were to have suction entrapment detectors installed, the pool would be in line with the law, Ziesenis told Hodges. The devices would cost about $1,500.
Despite the recommendation of Ziesenis, Brian Kinsgley of BG Consultants, proposed a $35,000 project that also would install grates over suction drains in the pool.
Mayor Scott Hopson said he would like "all the information the city can get from all of the experts in the field."
Since it was announced about two weeks ago that the pool would open late, vandals spray-painted graffiti in the empty pool and staff at the aquatic center have been receiving a large volume of complaints regarding the closure of the pool.