Teacher of month looks forward to next year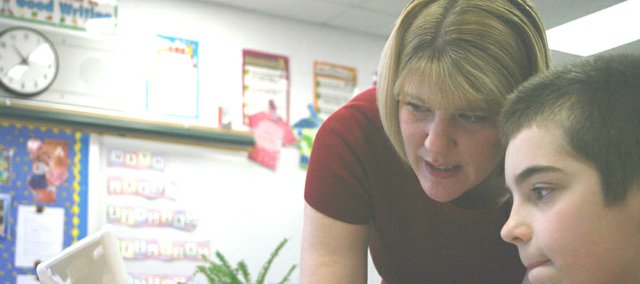 As she sat in her classroom, which had been packed up so it can me moved to the new Eudora Elementary School, Eudora West Elementary School fourth grade teacher Holly Bohardt looked forward to next year — despite the fact that school just ended a couple of days ago.
"I'm always looking forward to it," Bohardt said. "I'm excited for summer, but around June I start looking at all of my teaching materials and start making plans and getting excited about coming back."
Bohardt's love of teaching was one of the reasons her peers voted her the Eudora Chamber of Commerce's Teacher of the Month for May.
"I was surprised because every teacher here (at West) deserves that award," Bohardt said. "I felt honored that they recognized me, and it is a nice way to end the year."
Bohardt has been teaching for 13 years, with nine years spent in Eudora.
She knew she wanted to be a teacher since she was a child.
"I had a wonderful teacher when I was in fourth grade and I just knew that was what I wanted to do," she said. "I never really thought about any other career path."
While Bohardt certainly is focused on the academic side of her duties, she also takes time to make sure her students are good citizens.
"When you've been working really hard on something and they're not getting it and then they start to understand and you see their little faces change, that's it for me — when you see them learning," She said. "But also when you see them interacting with other kids the way that you taught them — I think that's an important part, too."
She also said that one of the things she values is the support provided by teachers and administration at West.
So, it comes as no surprise that West principal Jan Irby said providing support to others is one of the things at which Bohardt excels.
"We talk about lifetime learners, and she is a lifetime learner," Irby said. "She exhibits that everyday. She pays back everyday what she gets from the community, her students and the rest of the staff."
More like this story