Youth catches up with Cards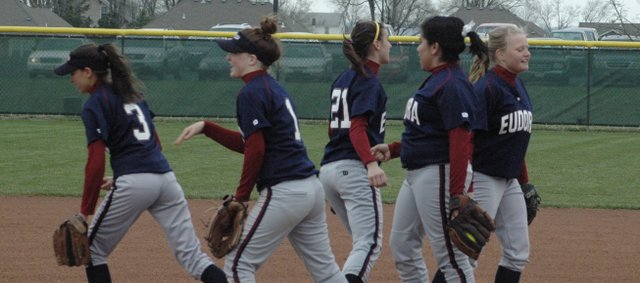 The 2009 Eudora softball team was young from start to finish. The team had just two seniors on the roster – shortstop Bailey Scott and pitcher Miranda Cobell. And in the postseason, 10 of the 15 players on the roster were freshman and sophomores.
"The future looks bright," Eudora softball coach Cara Kimberlin said. "We just have to develop a couple pitchers. We'll work on that in the summer and we have some freshman coming in who could do pretty well."
Eudora (10-11) started the season at 2-4, but one of those wins came in the first doubleheader of the season on the road at 5A Gardner-Edgerton. The young Cardinals then seemed to grow as they reeled off five straight wins, including sweeps over Spring Hill and Wellsville.
But after that Eudora's inexperience showed late in the season, as the team had several miscues and limped into the postseason winning one of its final five regular season games.
The Cardinals played almost flawless ball in their 15-0 run-rule win over K.C. Sumner in the first round of regionals. But against Basehor-Linwood, the Cardinals' youth showed once again, and the Bobcats ended the Cardinals' season with an 8-3 loss.
One reason for the late-season swoon could have been that the Cardinals had several games and practices that were rained out this season, making it difficult to get in all the field time that a young team needs.
While several underclassmen logged significant time on varsity, three veterans, Scott, Cobell and junior Evan Folks, led the Cardinals.
Scott, a four-year starter, broke the school's single and all-time stolen base records in her senior year and batted .417 and scored 25 runs. She also stole 22-of-23 bases. Cobell, who played her first two seasons on the junior varsity team, was the team's No. 1 pitcher and led the team with 71.2 innings pitched and had six wins and one save. Cobell also recently signed a letter of intent to play softball next year at Haskell University.
"Bailey's been absolutely a constant for us for four years," Kimberlin said. "And Miranda, she played JV her first two years and moved up and had to take on a lot this year because we really didn't have another pitcher in line."
And Folks, who was a two-time all-state catcher her first two years, was her usual self behind the plate and in the batter's box. Folks had a .410 batting average, 10 doubles, and stole 19 bases without being thrown out once.
The Cardinals were also one of the fastest teams in the league. Eudora runners successfully stole 70-of-72 bases. Much of that team speed returns next year.
Folks also pitched 30 innings and freshman Kate Dennis also logged innings late in the year.
More like this story