Cards rush into round two
Football blanks De Soto 28-0 in first round of playoffs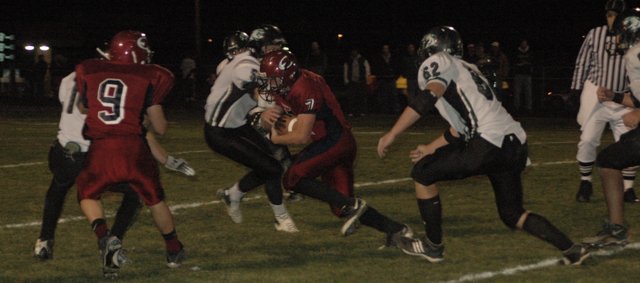 All the Eudora Cardinals needed was a break to get them started.
Facing a fourth-and-five early in the second quarter at its own 35-yard line, Eudora punted the ball away. But on the short kick, the ball bounced off a De Soto player, and the Cardinals recovered at its own 37-yard line.
Eight plays later, senior quarterback Evan Cleveland punched it in from the one-yard line, and the Cardinals went on to cruise past De Soto 28-0 in the first round of the playoffs Tuesday at Eudora.
Up seven at the half, Eudora got another break on its opening drive of the third quarter. Facing third-and-seven, Cleveland threw a deep bomb for receiver Brian Katzfey, who was closely guarded along the right sideline.
Both receiver and defender jumped for the ball, and on the rebound Katzfey hauled it in and sprinted down to the end zone for a 64-yard touchdown to put Eudora up 14-0.
"Those were huge," Eudora coach Gregg Webb said. "They're good defensively. They play hard. I mean, they held Bishop Miege to 29 points and Paola to seven, so they are good defensively."
Following the touchdown, De Soto mounted a drive to the Eudora 19-yard line, but Eudora's defense held. Cleveland and the Eudora offense then marched down the field covering 81 yards in 12 plays, and Cleveland finished the drive off with a 23-yard touchdown run on a play that started up the middle before he cut right and broke a tackle inside the five.
Cleveland later put the game away on another plunge from the goal line with 4:35 to play in the fourth. Cleveland finished the night with 150 yards rushing on 24 carries and scored three touchdowns on the ground. And through the air, he was eight-of-10 for 116 yards with a touchdown.
"He's unbelievable," Webb said. "He wills our team to win, and he's just getting better and better every week. He's a tough out. He's a really, really good high school football player."
De Soto struggled moving the ball most of the night and had only 98 yards of offense in the game. At halftime, De Soto had ran only 11 plays and gained 23 total yards. Meanwhile, Eudora had 385 yards of offense by game's end.
"Our defense is pretty good, so they weren't going to get very much yardage anyway," Webb said. "But they needed a lot of possessions to try to score."
Eudora (8-2) will play at 7 p.m. Saturday at Jeff-West.