Fall play has students clowning around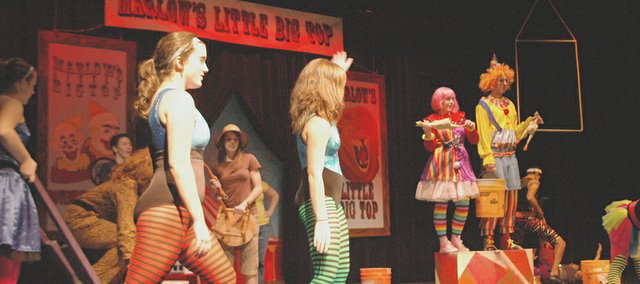 The students in the Eudora High School Drama Club mill about the auditorium Monday night before a dress rehearsal for the fall play.
They greet each other and joke about costumes, and when they take the stage the jocularity continues.
They're method actors, and a play about a circus is right in their wheelhouse.
"Under the Big Top," to be performed at 7:30 p.m. Thursday and Saturday in the Eudora Middle School Auditorium, is about a circus that is dysfunctional in just about every sense. The lion tamer is afraid of lions, the trapeze artists are afraid of heights and the clowns don't talk. In addition, the circus is headed for foreclosure.

Between the colorful sets created by EHS art instructor Gary Hinman and the multitude of happenings onstage, play director and EHS English instructor Linda Riedel said sensory overload was a possibility.
The play is appropriate for all audiences, but it helps if you've got a quick wit as the students are encouraged to add a little bit of their personality to their performances.

"You have your lines, but the stuff you improvise to make it funny to show your creativity is what I like," EHS senior Matthew Schultz said. "But everyone is funny in this."
Seeing creativity on the part of her students is one of Riedel's favorite parts of directing.
"I have a tremendously different approach to directing a play than most people," Riedel said. "I tell them where we're going to start and where we'll end and they instantly begin creating. Then, at the end I have to pull it all together.
"I don't want to mess with their creativity because they'll come up with better stuff than I ever would."
The play originally was planned for Friday but because some of the actors are on the football team, which will play in state sectionals at 7 p.m. Friday at Laws Field, the first performance was moved to Thursday.
Admission prices are $4 for adults and $3 for students. Call EHS at (785) 542-4980 for more information.
More like this story