USD

491 hit with more cuts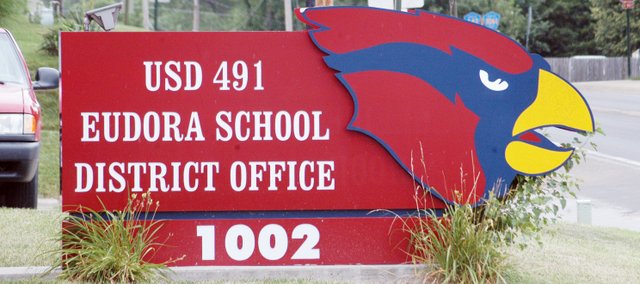 Eudora USD 491 Superintendent Don Grosdidier told Eudora Board of Education members at a meeting Thursday an impending cut to the district's budget would mean a decrease of about $180,000.
Kansas Deputy Education Commissioner Dale Dennis said last week public schools would see a $150 per student decrease in spending immediately because education costs have gone up and state leaders have said they will not make up the difference.
When the 2008-09 school year started, base state aid was $4,433 per pupil. It is now at $4,218 per pupil.
Increased enrollment, decreased property values, and an increase in students receiving free lunches, has produced another budget hole that Gov. Mark Parkinson said he won't fill at this time. That reduces per-pupil funding to $4,068, and Dennis said another reduction is likely.
"We've been able to minimize the impact on students to this point, but from here on out I am not confident that we can make further cuts without negatively impacting student learning," Grosdidier said.
The cut further complicated the district's decision regarding the construction of a stadium.
With most of the projects funded by the $45 million bond issue finished or already under construction, there is about $2.2 million left for a district stadium. However, the district will have the option — as stated in the bond resolution — to roll into the bond the $1.3 million contract with HVAC provider TAC Americas.
Paying for the TAC contract would cut down on the district's yearly operational costs, as it spends about $123,000 on the lease each year.
Board members had asked if construction of the stadium could be funded in any way by the money from the general fund, but with cuts looming that is not a possibility.
The stadium was estimated to cost about $2.9 million, based on plan that would've had engineering firm DLR design the facility and then bid out construction management.
However, the board will try to enter into a contract with Wichita-based firm ATG, which would design and manage the construction of what could be a $2.2 million facility.
The contract would obligate the district to a $25,000 design and a list of supplies needed. This method could allow the board members the possibility of choosing certain parts of the stadium they would like to build and other parts on which they would wait.
More importantly, it would give board members a better idea of the cost of the stadium and allow them to make a more informed decision.
"I don't think we can afford not to have ATG do this design so we have better information to work from," Board President Kenny Massey said.
An agreement with ATG could be reached in either December or January.
In other actions, the board:
• Approved a tobacco policy and will begin posting signage at athletic fields and throughout district facilities requesting patrons help maintain a smoke-free environment.
• Heard from Grosdidier about the strategic planning sessions the district conducted during the week prior.
The meetings resembled the city's visioning process of about one year ago where community members were brought together to discuss a series of goals they would like to accomplish.
About 45 people, including board members, administrators, teachers, parents and patrons, discussed everything from implementation of 21st century technology in the classroom to future use of district properties.
"This district is reflective of the community's values and choices," Grosdidier said. "Certainly, we, as a district, need to be good stewards of their tax dollars."
Focus groups will meet this week to discuss the first round of meetings. A report then will be given to the board in December.