Back toward the top
Football regains postseason prowess in 2009 season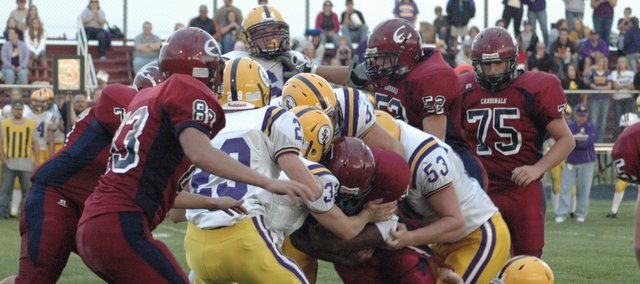 Sure, the Eudora football team took home several trophies during the 2009 season. But perhaps even more significant than the hardware was the fact that the Cardinals showed they were one of the top teams in Class 4A.
"We kind of brought a little respectability back after last year," coach Gregg Webb said. "Although last year, I think everybody that saw us knew that we were pretty competitive and should have went to the playoffs. But those things happen."
After a disappointing 4-5 season in 2008 the Cardinals won their first four games of the year and carried that momentum through the second half of the season. The Cardinals won the district and regional championships and were sectional runners up to Paola.
That 33-14 loss came as a bit of a surprise, as Eudora had beaten Paola 35-27 in week four at Paola. But in the sectional contest the Cardinals struggled offensively and were hit by injuries to starters Boomer Mays and Caleb Clayton-Molby, which limited Eudora on both sides of the ball.
This season, Eudora ran the ball at will at times on its opponents but also added a new wrinkle to the offense in a resurgent passing attack. While senior quarterback Evan Cleveland gashed opposing defenses for 1,103 yards and 13 touchdowns on the ground, he also completed 45 passes for 740 yards and seven touchdowns.
Cleveland's favorite target was Brian Katzfey, who came out for football this year after some encouragement from Webb. Katzfey caught 33 passes for 544 yards and had three touchdowns. Katzfey also was a punt and kick returner and started on defense at defensive back. Katzfey also picked off eight passes this season.
"He was a great addition," Webb said of his first-year senior.
As a team, the Cardinals rushed for 2,642 yards on the ground and threw for more than 1,000 yards. Eudora's playmakers were the beneficiary of an experienced offensive line that featured seniors Jonathan Morrison, Alex Cox, Matt Schultz, Colton Lynch and junior Dylan Litherland.
On defense, the Cardinals shutout their opponent four times. The Cardinals featured a strong linebacker core of Mays, Molby and senior Coty Stoneking. Mays averaged 13 tackles a contest and recorded 160 stops.
Eudora's defensive front four of Coulter Vestal, Alex Whitten, Tanner Byrne and Hawley Montgomery also caused havoc in the backfield and combined for 10 sacks.
Eudora also had solid special teams play, as first-year senior Matt Jump served as the team's kicker and Reece Long gave the Cardinals a weapon in the kick return game.
Long averaged 22 yards a return and returned one kick 85 yards for a touchdown. And seniors Jeremy McClellan and DJ Zahn also were big parts of the special teams play. In all, Webb will lose 15 seniors next year.
"They're a tremendous bunch," Webb said. "When they were freshman I knew they had a chance to be pretty special."
Eudora finished the year 9-3, and Webb credited his group of seniors for the team's quick turnaround from a season ago.
"You need classes like that and kids like that to kind of propel you a little into the playoffs," Webb said. "They wore the uniform proudly. I don't know how many of those kids will go on and play, but they did what good high school players do. They enjoyed it."