New-look girls basketball team excited to begin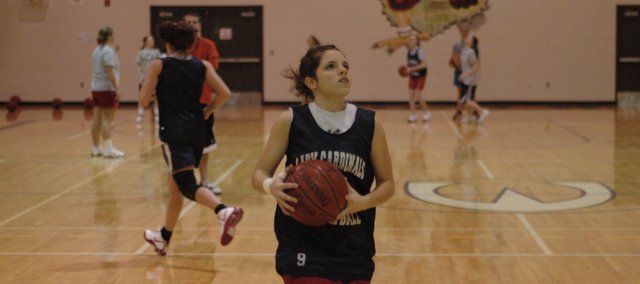 The Eudora girls basketball team looks quite a bit different than last year's.
Eudora lost six seniors that led the team to the Class 4A State Basketball Tournament and also its coach Ryan Luke, who left to take a job in Nebraska. But even with all the change from last year to this year, the team and new head coach Todd Cossman are ready for the season to begin.
"I'm pretty excited about it, and I think the girls all are, too," Cossman said. "Volleyball ended right at the beginning of November, so they've had a few weeks off. So I think they're ready to get back into the gym and get to work."
Cossman coached the past few seasons at McLouth, and assistant coaches Dustin San Romani and Lauren Kracl return from last year's coaching staff.
Eudora also has about 10 seniors on this year's team, and returns several players who played varsity last year, including seniors Evan Folks, Shea Lounsbury, Hannah Kouri, Madison Oller, Katie Slavin, Sydney Schmille and Molly Brunton.
"I feel really good about the senior leadership on the team," Cossman said. "We've got about 10 of them, and they're all pretty hard workers. They get after it in practice and they're good leaders and they're positive."
With the KSHSAA rule change that allowed coaches to spend more time coaching the kids during the summer, Cossman said that was helpful as he learned about his new team.
While the team's makeup is indeed different, the Cardinals will use some of the same terminology and approach as last year.
"Basketball is basketball," Cossman said. "There are a lot of ways to skin a cat. But we're going to try to keep stuff as similar as possible. I mean, we're running motion. They ran motion last year. But when it comes down to it, motion's how to play basketball. There's not a lot of set stuff, so we're going to teach them how to play, and we're going to try to be pretty aggressive on defense and put a lot of pressure on the perimeter."
During the next two weeks of practice, Cossman said the team would focus on team offense, defense and fundamentals.
"I don't think you can really focus on one thing without hurting something else," he said. "So we try to cover everything."
The Cardinals open the season Dec. 4 at Anderson County.