Full Plate
Eudora
USD

491 employees eagerly anticipate coworkers' annual holiday treats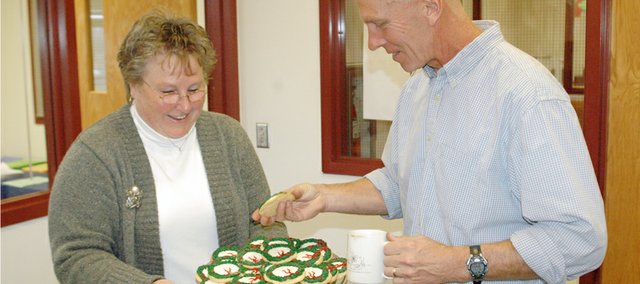 As the holidays approach, Don Grosdidier's Thanksgiving stuffing and LaDene Black's sugar cookies give the staff of the Eudora School District more than just days off to anticipate.
Eudora USD 491 Superintendent Grosdidier has been circulating his Thanksgiving stuffing recipe throughout the district for more than 10 years.
He developed the recipe about 15 years ago after he found a base recipe and then added sausage. He also was motivated to keep up with the Thanksgiving exploits of his three brothers-in-law, who are trained chefs.
"It's a little intimidating with three chefs," Grosdidier said. "The feast that you have is incredible and everybody does something, so I went with the stuffing."
On a whim, he then began circulating the recipe within the high school staff while still a teacher. He decided to continue to circulate the recipe in a tongue-in-cheek manner
"It became kind of a joke, but people would ask for the recipe if I didn't send it out," he said. "I think the sausage and the sourdough bread makes it. It's a meal, it's really not a side dish."
One of those impressed with the recipe was Jason Gray, culinary arts instructor at Eudora-De Soto Technical Education Center. Gray had Grosdidier demonstrate its preparation annually until he became too busy with his promotion to district superintendent in 2008.
"We share it with the class every Thanksgiving," Gray said. "I make it now for my family because it's the best stuffing I've ever eaten."
Black has been bringing a variety of treats to work around Christmas for the better part of her 28 years with the district.
"I would kind of put on an open house and bring in all of my cookies and candies," said avid baker Black, who is head secretary at Eudora Middle School. "Everyone always was asking when I was going to bring more cookies because they were the first thing gone."
The recipe came from her grandmother, but Black didn't start making the cookies until she made them for her children about 30 years ago.
"They're the kind of cookie that when you put them in your mouth, they kind of melt so when the kids were teething, it was the perfect little cookie," Black said.
One of the subtleties of the recipe is that her grandmother used a teacup to measure the flour, rather than an actual measuring cup.
"When my grandma made them, she would just take her teacup and scoop it in the flour bin and then pour it in the recipe," Black said. "I've tried it using a measuring cup and it's just not the same."
Black's coworker Holly Kracl said the cookies were an anticipated holiday treat.
"On a scale of one to 10, they're about a 12," Kracl said. "One year, she got sick and she didn't bring them in. I didn't care about her being sick — the damn cookies weren't here."
LaDene Black's sugar cookies
1 cup white sugar
1 cup powder sugar
Pinch of salt
2 teaspoons vanilla
2 eggs
2 sticks margarine or butter
1 cup oil
About 4 cups of flour (use a tea cup; not a coffee mug or measuring cup)
1 teaspoon cream of tarter
1 teaspoon baking soda
Measure the white sugar, powder sugar, salt, cream of tarter and soda in a mixing bowl and mix. Slowly add the eggs, softened margarine, and very slowly add the oil. Next, put in the flour and mix thoroughly. The mixture will be very soft, and you will need to refrigerate overnight or at least 6 hours.
Preheat the oven to 350 degrees.
Roll the dough in a ball the size of a quarter. Then dip a flat bottom glass in water then in sugar and flatten, but not too much.

Bake for 8 to 10 minutes. The cookies should not be brown all over, just maybe a golden brown color around the edges. These cookies are very rich and will break easily, so handle with care as you would expect grandma to treat the grandchildren.
Don Grosdidier's Thanksgiving Stuffing
8 cups of sourdough bread
(cubed and dried)
1 cup of butter (2 sticks)
1 cup of celery chopped
1 cup of onion chopped
1 pound of ground Italian sausage
1-2 cans of chicken broth (26 oz.)
1/4 cup of snipped parsley
1 1/2 teaspoon of dried rosemary
Brown Italian sausage and set aside. Sauté onions and celery in butter until soft but not brown. Combine all ingredients with bread cubes in a mixing bowl. Use chicken broth to level so that the mixture is not dry but not runny. Place in a baking dish and bake at 350 degrees for 45 minutes. This recipe should provide about 10-12 servings.
Cookie frosting
2 2-pound bags of powder sugar
2 sticks margarine or butter
1/2-3/4 cup solid Crisco
2 tablespoons white vanilla (dark will do, but it will be a darker icing)
1teaspoon pure almond extract
Milk (about. 1/4-1/2 cup)
Add 1 bag of powder sugar to mixer along with the vanilla, almond and milk. The amount of milk to use is an amount to make the consistency of the icing soft but not runny.
Next, add the sticks of margarine and Crisco and beat until there are no more lumps. Slowly add the second bag of powder sugar and beat again until smooth. Frost the cookies and enjoy.
More like this story