Eudora Elementary School has formal dedication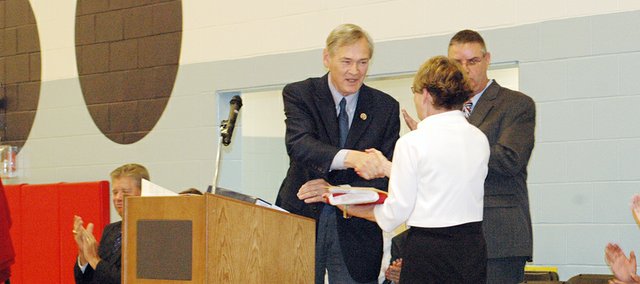 The newly built Eudora Elementary School has been earning rave reviews from community members since its opening in August.
Sunday was no different, except this time the people doling out the complements were Kansas Commissioner of Education Dr. Alexa Posny and
Rep. Dennis Moore, D-Kan.,
The two spoke during the formal dedication of the $27 million school that houses students in grades first through fifth and is the flagship of the $45 million bond issue Eudora voters approved in Nov. 2007.
"I walked in here today and I looked around and I said, 'This can not be an elementary school, this has to be a high school. This is nicer than many other high schools that I've been in around the country,'" Moore told the audience.
Moore said the school was another example of how much education means to people of Eudora and the state.
"People in our area and the whole state of Kansas basically have shown they place great value on education, which is an opportunity for quality learning for our children, our grandchildren and future generations in this country," Moore said.
Posny also praised the community for electing to have the facility built.
"Because you dared to dream and make that dream a reality, you are now standing in a beautiful new school where teachers and administrators can partner with parents and the
community to provide a first-class educational opportunity for all the youth of Eudora," Posny said.
For Superintendent of Schools and lifelong Eudoran Don Grosdider, the ceremony spoke to how far the district had come.
"It's a celebration of a lot of hard work by so many people at a lot of levels," he said. "To see all of this come together is very moving. Being from Eudora and having a unique perspective on the growth of this community makes it even more rewarding for me."
After Moore spoke, he presented EES Principal Jan Irby with a flag that was flown July 21 over the U.S. Capitol in honor of the new school.
Eudora USD 491 Board of Education members Belinda Rehmer and Eric Votaw then unveiled a plaque commemorating the school's dedication and the ceremony was closed with EES students performing a rendition of "We Are the World."
Irby said the performance encapsulated the reason and the need for the new building.
"It's very emotional because so much work and time go into it, but when you hear those children's voices ring out and sing 'We Are the World,' that's why we did this, for them," she said.
More like this story