Game of inches
Cardinals fall just short at homecoming, 28-14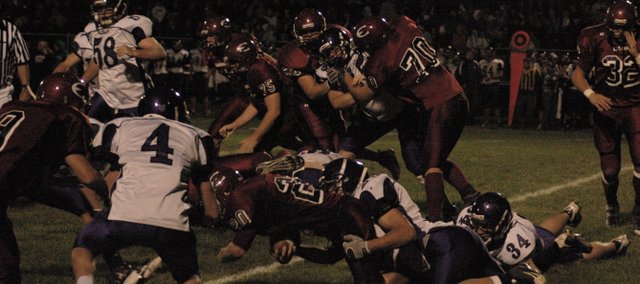 It seemed the Eudora Cardinals were always just inches short.
Trailing by six with under four minutes to play against Louisburg, on a crucial fourth-and-six from Eudora's 32-yard line, EHS quarterback Evan Cleveland followed blocks by left guard and tackle Alex Cox and Jonathan Morrison on a sweep. Cleveland, the Eudora bench and homecoming crowd cheered in anticipation of a first-down signal from the officials. But that call never came, and after a spot and measurement, Eudora was just inches short, and Louisburg took over on downs.
Louisburg running back Alex Gentges then broke through the Eudora defense for a 24-yard touchdown, and the Cardinals fell on homecoming, 28-14, Friday at Laws Field.
"Inches is correct," Eudora football coach Gregg Webb said. "They get a good spot, and we don't get such a good spot. The poor thing, the thing that bothers me most that's going to keep me up here is that we were just not very physical. I mean, they just lined it up and beat us up and that's kind of demoralizing. I mean nobody loves doing that more than I do, and we've been able to do that to other teams, like last week, and this week we got it done to us."
Just before halftime, the Cardinals also came up just inches short when Christian Richardson took a reverse to the right and threw a deep ball to receiver Brian Katzfey, who had a step on the defensive back. But the ball bounced just off his fingertips, and the Cardinals trailed, 14-7, at the break.
In the third quarter, Louisburg bumped its lead to 13 on a 12-play, 87-yard drive that culminated in a Ryan Roberts 11-yard touchdown run, before Cleveland pulled Eudora within a touchdown on an 11-yard run early in the fourth. Eudora had momentum and the defense held, forcing the Wildcats to punt with 7:01 to play.
But on the ensuing drive, the Cardinals were just inches short again as Cleveland threw a pass over the middle to tight end Hawley Montgomery, but the ball was just out of his reach and Eudora had to punt.
But thanks to a roughing the punter call on Louisburg, the Cardinals again had life. But two short runs, a false start penalty and Cleveland's fourth-down effort was ruled just short, and the Cardinals couldn't complete the comeback.
"I thought I had it," Cleveland said. "I thought I dove at least a yard past the marker but the ref got caught up. From what I saw he got ran into by another player and didn't really know where the spot was but came out and marked it. But that's the way it goes. People make mistakes, but I thought I had it."
Cleveland led Eudora with 64 yards rushing on 21 carries, while Gentges ran for 119 yards on 11 carries and scored three touchdowns for Louisburg. Eudora totaled just six first downs and 191 total yards.
Eudora seemed to be in control to start the game as Caleb Clayton-Molby and Alex Whitten recorded sacks to stop Louisburg's opening drive. The Cardinals then drove 63 yards, and Chris Pyle's 10-yard run up the gut put the home team in front 7-0.
But in the second quarter, Gentges gashed Eudora's defense, and scored touchdowns on runs of 24 and 44 yards.
"Every year they decide to just smash us in the mouth, and we can't tackle them," Webb said. "We sometimes have guys there, but you can just tell the wall moved. They have a good offensive line and their defensive line just beat our offensive line up. So when they say the game is won and lost on the line of scrimmage, that is no kidding because tonight that was exactly what happened."
Eudora (4-1) will play undefeated Gardner-Edgerton Friday at home.