5 Questions: Bring on the bikes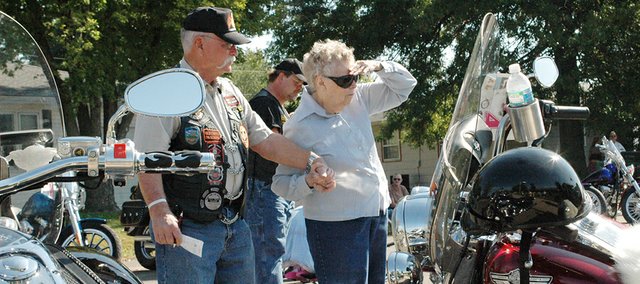 Skilled nursing facility Medicalodges, Eudora, 1415 Maple St. will have a bike show and poker run this Saturday.
The poker run will memorialize Gina Bailey-Carbaugh, formerly a nurse with the facility who passed away unexpectantly last June.
Medicalodges staff members discussed the idea behind the event as well as some of the entertainment that will occur.
Registration begins at 9:30 a.m.; the poker run starts at 11 a.m.; entertainment starts at 1 p.m.; the bike show starts at 2 p.m.; winners will be awarded at 4 p.m.
Q: How did the idea for this event come about?
A: Gina Bailey-Carbaugh, a nurse with Medicalodges, was so impressed by bike shows that raised money for charity, that she proposed in 2008 that Medicalodges host a bike show to raise money for the LMH Breast Center. In 2008, we raised $3,500 for the breast center through the bike show and related events throughout the week at the Lodge.
Q: What exactly is a poker run?
A: A poker run is an event in which bikers drive to five locations (usually bars) and at each receive a playing card. At the end, they return to the starting point and the best hand wins. It's a 50/50 split. The entrants put in a donation and split the pot. Half the money goes to the individual with the winning hand, half to the charity.
We did not have a poker run last year, and it was Gina's idea to include it in this year's event.
Q: How much does it mean to the staff and residents to memorialize Gina with the Poker run?
A: Gina was so well liked; I think it's very important to residents and staff —and particularly so to Gina's children, grandchildren and parents. It was a no brainer to do the event in her memory this year.
Q: What will be some of the activities at throughout the day?
A: Activities will include music by the band Spindown. There will also be food vendors, including Black Belt BBQ, Slow Ride Roadhouse and La Tropicana. Other various vendors, including residents selling jewelry they made, and, of course, the bike show with residents judging
Q: What awards will be given out this year?
A: We will give out awards for Grand Prize (best bike overall), Residents' Choice, Cruiser, Touring Bike and Custom Bike and there will be drawings throughout the day for smaller items.