Holy Family to celebrate 150 years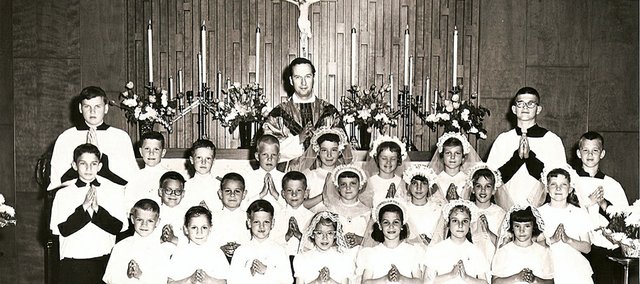 Growing up across the street from the Holy Family Catholic Church with an altar her grandfather helped build, Janet Campbell knew something of the church's history.
But the last six months Campbell has learned much more as she searched through articles and made digital copies of about 500 photographs of Holy Family's 150-year history, which included a relocation from the church her grandfather helped construct to a new building.
The photos Campbell found and various other historical artifacts will be on display this weekend at the old church at Church and Ninth streets, as well as the newer church at 820 Birch St. as Holy Family celebrates its 150th anniversary.
The pictures of such subjects as weddings, graduations, baptisms and activities at the parish's parochial school have been assembled in a book that will be available for purchase this weekend.
"I think history is important to your future and lays the foundation for your future," Campbell said. "When they first founded Eudora, 20 people felt it was important to found a church, and I think that needs to be preserved for the generations of the future."
Holy Family is one of 19 of the 121 parishes in northeast Kansas to have been in existence 150 years.
Other events to mark the anniversary include a parking lot dance at 7 p.m. Saturday at the 820 Birch St. location.
Mass with Archbishop Joseph Naumann will be at 10 a.m. Sunday and will be followed by a parish dinner at noon at Eudora Middle School.
The Rev. Pat Riley of Holy Family said he organized a group of Campbell and seven others last spring to plan for the weekend's festivities. He said they have been the backbone for everything from cleaning the churches to organizing various events.
Riley said the church's longevity is a testament to the dedication of the parishioners throughout the years.
"What's kept the church alive all the way through is the faith of the different generations who thought it was important to pass on our Catholic faith to future generations," he said. "That's what's made it survive."