Missed opportunities
Soccer falls to Immaculata 2-1 on Senior Night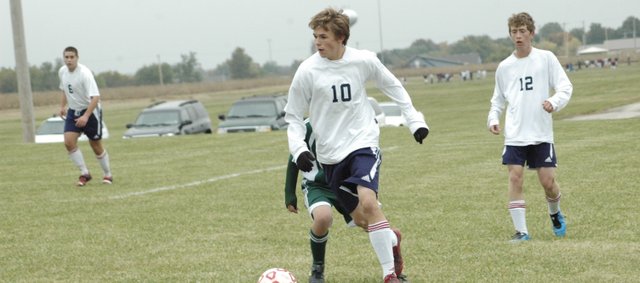 The Eudora soccer team was so close to a victory Tuesday on Senior Night at Eudora.
Several times in the second half the Cardinals had shots that either bounced off the Immaculata goalkeeper's hands or missed just high or wide. And while the Cardinals controlled the game, especially the second half, Immaculata left the field with a 2-1 victory.
"Soccer is one of those games that the best team on the field doesn't always win," Eudora soccer coach Gunar Harmon said. "We had more than enough chances to win the game. Their goalkeeper, he had a stellar day in miserable conditions."
Immaculata got on the board first with a goal off a corner kick 10 minutes into the first half. The Cardinals responded and tied the score at one on a goal by senior Matt Jump via an assist by fellow senior Daniel Brauda with 11:00 to play in the half.
Rain fell steadily during the second half, but the Cardinals controlled possession and played most of the half on the offensive attack. But Immaculata scored the winning kick just four minutes into the half when it had a one-on-one against Eudora goalkeeper Michael-Shayne Baxter. But the play was stopped because of a personal foul against the Cardinals, setting up a free kick.
On the kick, Baxter dove to his left and made a lunging save. But the ball bounced off his hands and rolled into the back of the net.
The Cardinals kept on the attack, however, as Brauda, Jump and Lucas Becker had late shots that just couldn't find the net.
Jump's miss deflected off the goalkeeper's hands and bounced off the top of the cross bar.
"I was hoping it would go in," Jump said. "I had a couple of them that he blocked. He got lucky."
Seniors John Chumbley, Paul Bryant, Dalton Hladky and Kalen Wright also were honored during halftime. Harmon thanked his seniors for their efforts.
"It's sad when you get to these moments and you realize that they're on to the next stage of their life," Harmon said. "Then you look around and you've got a whole new crop coming in."
Eudora (2-10) will play Thursday at Louisburg and against Gardner Monday at EHS in a makeup game. The Cardinals will then travel Tuesday to Baldwin and finish the regular season Oct. 22 at Perry-Lecompton.