Cards cruise past Kaws, 45-14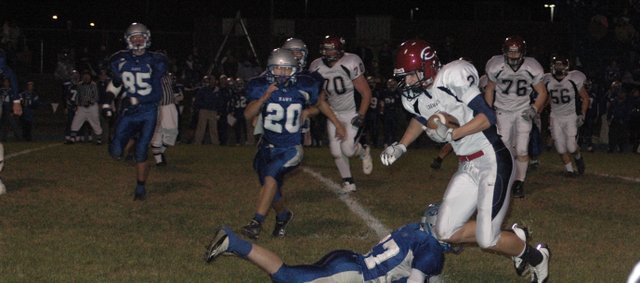 PERRY - When the Eudora offense finally got going in the second half, it couldn't be stopped.
Leading by seven to start the second half, the Cardinals scored touchdowns on three plays in a row in the third quarter, and cruised to a 45-14 victory Friday at Perry.
Evan Cleveland started the second half scoring surge on a 23-yard quarterback sweep down the left sideline. Wide receiver Christian Richardson made a block at the 15-yard line, and Cleveland went into the end zone untouched.
On the ensuing possession, Perry went three-and-out, and Cleveland connected with Brian Katzfey on 58-yard strike on the first play of the drive. Richardson then intercepted a pass and returned it 22 yards into Perry territory. And on the first play of the drive, Caleb Clayton-Molby broke free up the middle for a 41-yard touchdown, pushing Eudora's lead to 35-7.
Perry would answer, recovering a fumble in the end zone midway through the fourth, but on the ensuing possession Eudora's Chris Pyle gashed the Perry defense for a 66-yard touchdown run.
Boomer Mays led the Cardinals' rushing attack with 104 yards on just eight carries and one touchdown. Pyle also had 22 carries for 98 yards and two touchdowns on the ground.
Eudora also had success passing, as Cleveland was 8-12 for 173 yards with a touchdown. Katzfey caught five passes for 129 yards and scored one touchdown.
Eudora (5-2, 1-0) will play Santa Fe Trail Friday at Eudora.
Score by quarters
1 2 3 4 F
Eudora 7 7 21 10 45
Perry-Lecompton 0 7 0 7 14
Scoring summary
E - Chris Pyle 4-yard run (Matt Jump kick) 1:41
P - Trent Robb 6-yard pass from Jeremy Immenschuh (John Mehl kick) 10:18
E - Boomer Mays 16-yard run (Jump kick) 4:02
E - Evan Cleveland 23-yard run (Jump kick) 5:55
E - Brian Katzfey 58-yard pass from Cleveland (Jump kick) 3:40
E - Caleb Clayton-Molby 41-yard run (Jump kick) 1:58
P - Cody Amerine (fumble recovery in end zone) (Mehl kick) 6:03
E - Chris Pyle 66-yard run (Jump kick) 5:45
E - Matt Jump 20-yard field goal 2:22