Top five finish
Cardinals place fifth, Espinosa third at league meet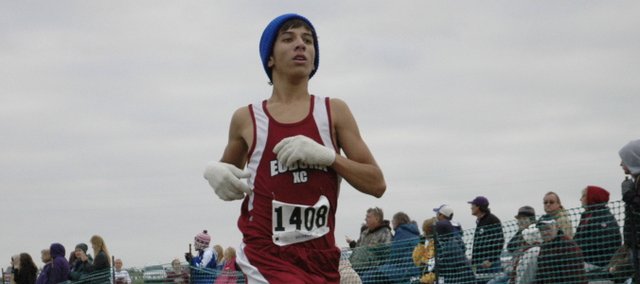 The Eudora cross country team earned a pair of fifth-place finishes Thursday at the Frontier League meet at Rim Rock Farm in Lawrence.
Coach Paul Boone said he was pleased with both the boys and the girls, and was excited about the prospects for the regional and state meets.
"We ran as well as we've ran all season," he said. "We beat the people we needed to beat. It was a hard-fought battle and the kids have been improving."
Traditional league powerhouse Baldwin snagged first-place on the girls side while De Soto won the league championship on the boys side.
For the Eudora girls, Kaya Riemann led the Cardinals with a 25th place finish overall as she ran an 18:38. Molly Brunton, Amalie Thomsen, Fernanda Garcia and Whitney Weld rounded out the Eudora top five.
"We had five girls run under 20 (minutes)," Boone said. "They're learning to push themselves and have been working to improve times. The course is a good one to do that."
Ivan Espinosa flew for the boys, earning third-place overall as he posted a 17:29. That was good enough to earn him first-team All-League honors. Kyle Snow finished 19th at 18:31 and earned third-team All-League honors.
Timothy Borger, Zack Courter and Colin Forsberg were the next three finishers for the Cardinals with times of 19:20, 20:19 and 20:23, respectively.
"Ivan ran the fourth fastest time in Eudora history," Boone said. "That puts him in pretty good company. He's had a great string of weeks here now."
Boone is referring to the last few meets in which Espinosa garnered two second-place finishes, one first-place and now third.
Boone said the course was well-groomed and made for a good setting for the league meet.
"There was a little bit of mud," he said. "But the course was in great shape. The kids enjoyed themselves."
The Cardinals are back in action at the regional meet Saturday at Bonner Springs.