105-year-old retains healthy sense of humor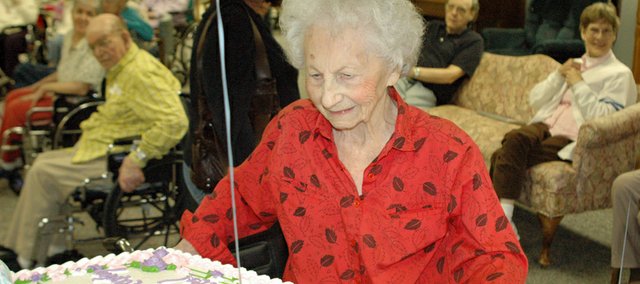 Surrounded by balloons and family members, 105-year-old Henrietta Olson blew out the candles on her birthday cake in about seven tries.
"I tried to blow all dry air," Olson joked as the crowd gathered for her birthday Thursday at Medicalodges Eudora let loose with laughter.
Though the staff at the skilled-nursing facility has only known her for about two weeks, they are used to engaging exchanges with their new resident.
"She's very lively," said her great-grandson Ben Steineger.
When asked if there's a secret to her health and longevity, she said it's probably just genetics — her mother lived to be more than 100 years old, as well.
However, family friend Richard Daniel, 69, points out that she never partook of tobacco and wasn't a big drinker.
"I've had a toddy or two, but I didn't like the taste of beer," Olson said. "Watermelon was what I liked."
Many of the people gathered for the celebration talked about her business acumen — she had her own real estate firm — and how she still draws and writes prose and poetry.
However, Olson is just as quick to talk about the importance of those around her.
She notes that she would go anywhere to see Daniel and talked of taking care of him when he was a child.
She also praised the academic exploits of her daughter, Helen Smith, 79.
"She's the best daughter I ever had. Of course, she's the only one," she joked.
As she ate cake and strawberry ice cream, her poetic side came to the forefront.
"I am thankful that I'm still well and living," Olson said. "It's a very pleasant time for an old lady who is about to go out of the atmosphere on this lovely place that they call Earth."