EHS

students push for no smoking policy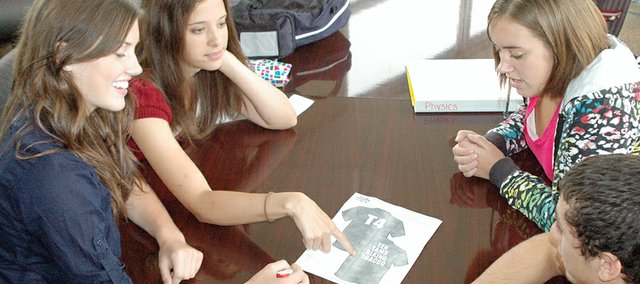 Eudora High School sophomore Madeline Dickerson remembers leaving the soccer field gasping for air only to get an unpleasant surprise.
"We've had games we've gone to and as you're coming off the sideline, you walk into a cloud of smoke," she said.
Dickerson said it was one of the reasons she and fellow EHS students are starting an anti-smoking campaign that will include an appeal to the Eudora USD 491 Board of Education to ban smoking on all district property. The campaign will start with the posting of signs asking people to abstain from smoking at Friday's football game.
The students — Dickerson, Bria Carder, sophomore, Cecilia Lehman, junior, and Dalton Hladky, senior — were organized by Eudora USD 491 prevention specialist Chrissy Mayer, who is employed by the district as part of the federal Safe Schools/Healthy Students Grant awarded the district last year.
The group is called Teen Teams Talking Tobacco, or T4, and it recently received a grant of $1,250 from the Tobacco Free Kansas Coalition to implement youth activities targeted for tobacco use prevention in Eudora.
The students said the grant programs should reflect positively on the district.
"I think it makes Eudora, as a school district, look better because we're able to go out and tell people not to smoke," Cecilia Lehmann said.
At Friday's season-opening football game, T4 students will distribute fake tattoos with anti-smoking messages and cheerleaders will be throwing out miniature footballs with anti-smoking messages
But those activities are just a prelude the the group's big effort.
On Sept. 10, T4 students will ask the USD 491 Board of Education to ban smoking on all district property.
Smoking is already banned in district buildings but is allowed outside the buildings and at athletic fields after school hours.
"We're not trying to make people quit," Dickerson said. "We just want smoke-free areas for the students."
Neighboring Lawrence and De Soto school districts already have policies similar to the one the students will ask the board to approve. Basehor-Linwood, Baldwin and Tonganoxie do not.
Regardless of the board's decision, beginning Oct. 12, the T4 group will start speaking to students at Eudora Elementary School.
"I think it's great that they're stepping up and want to do this," Mayer said.
Bria Carder said she felt a responsibility to be a good example for younger students and prevent them from a fate similar to that of her grandmother, who started smoking as teen and now has emphysema.
"Seeing the effects, I feel like I should help people make the decision to not take that route," Carder said
Mayer said she was impressed with the work of the students thus far and that they would begin recruiting more students this month to train to work with elementary students.
"Some little kids might look up to their older brother instead of me, so more people would provide a bigger variety of ways to spread the advice around," Hladky said.
More like this story