5 Questions: 12th Man club supports
EHS

fall sports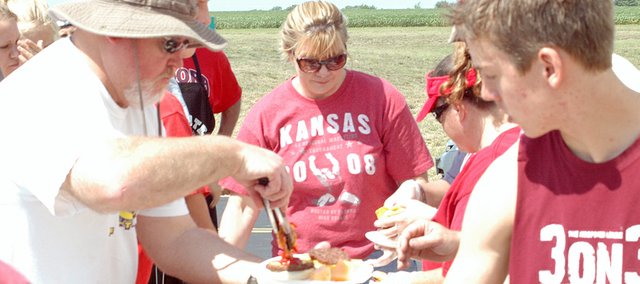 Richard Campbell, one of the organizers for the Eudora 12th Man club, discussed the charitable organization.
The club was established about 10 years ago and secures funding for Eudora High School fall sports teams by asking area businesses to sponsor the teams.
The club also has a tailgate party before every home football game.
Q: What is the purpose of the 12th Man club?
A: The purpose is to do things to support fall sports teams at Eudora High School.
Q: What are some of the ways the club supports teams ?
A: We have a dinner for them every Thursday night. We make food for them to take on the bus for away games and provide things that the teams need but the (school) district can't provide.
Q: How can businesses support the teams?
A: There are three levels of giving — $1,000, $500 and $250 — and all of the businesses who donate money get a banner with their name on it hung on the fence at Laws Field. So, it's free advertising for the businesses, too.
Q: How important is parent involvement?
A: The Thursday night feeds wouldn't happen without parent involvement, but it's anybody who supports Eudora, not just parents. There are lots of parents who still come and don't even have kids in the schools anymore.
Q: What do you think something like the weekly football game means to Eudora?
A: It's a local event that brings people to town and it's a safe, inexpensive thing for people to go and do.
It's also a way to show some community pride.
You ned some activity for a town to rally around and high school sports are always readily available to do that.