Neighbors: Tyler Beebe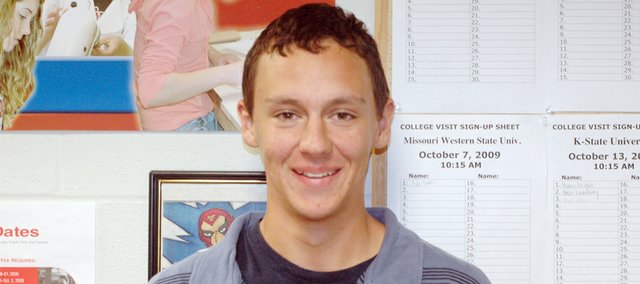 Senior, Eudora High School
Q: How long have you lived in Eudora?
A: I've lived here for about three years.
Q: What is the best advice you've ever been given?
A: Never give up.
Q: What is the biggest risk you've ever taken?
A: I'd have to say trying sushi.
Q: What are three things people should know about you?
A: I love baseball, I like helping other people and I actually think school is fun.
Q: What are three of your pet peeves?
A: When people constantly ask the same question over and over again, people who wear their pants below their waist and people who aren't on time.
Q: When you were a child, what did you want to be when you grew up?
A: At first I wanted to be a fireman, then a professional baseball player and now I'd like to be a teacher and coach.
Q: What is your ideal vacation?
A: I'd like to go and just relax on the beach in Hawaii.
Favorite things
Song: "New Divide" by Linkin Park
Favorite movies: "Bill Madison" and the "Transformers" series
Book: "Bull Catcher" by Alden R. Carter
Food: Steak