Cardinals take down Wildcats, 27-6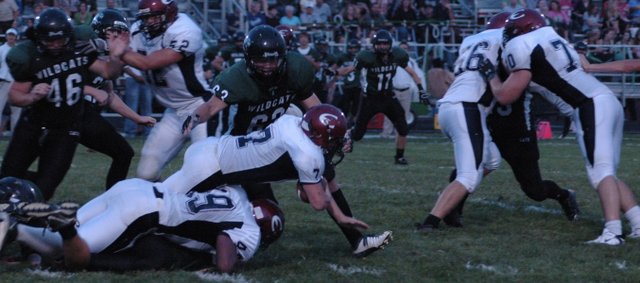 DE SOTO – At 5-foot-7 and maybe 140 pounds, Evan Cleveland isn't big. But he sure plays that way.
Cleveland, Eudora's senior all-purpose running back, quarterback, receiver, defensive back and kick returner, rushed for 136 yards on 22 carries and scored one touchdown and nabbed one big late interception to lead Eudora to a 27-6 win Friday at De Soto.
Clinging to a 7-6 lead at the half, Eudora took the opening drive of the third quarter and marched to the end zone, covering 81 yards in 13 plays. Cleveland had runs of 14, 14, 12 and eight yards on the drive. Cleveland also rushed four straight times on quarterback sweeps that moved Eudora from the De Soto 30-yard line down to three-yard line. The drive culminated with Hawley Montgomery recovering a fumble in the end zone that put Eudora's lead to 14-6.
Fumbling was a problem for Eudora during the first half, as the Cardinals fumbled it away three times. De Soto's Logan Clark returned one of those fumbles 54 yards in the second quarter for De Soto's only points of the game.
At halftime Eudora had 113 total yards of offense and De Soto totaled just 86 yards on offense. Eudora had just five first downs in the half, and three were via De Soto personal foul penalties. But in the second, Cleveland converted three big third downs to keep Cardinal drives alive.
"The first half, we struggled big time," Cleveland said. "But those third down conversions, we get ourselves together and get done what needs to get done. We get that first down and we want to keep going, and waste time off the clock, and really want to score."
Eudora's offense came to life in the second half, as Drew Noble hit Coulter Vestal on a deep bomb for 74 yards. Boomer Mays finished that 4-play, 79-yard drive with a three-yard touchdown run to push Eudora's lead to 20-6 midway through the fourth quarter.
On the ensuing De Soto possession, Cleveland intercepted a pass and returned it 20 yards.
"They threw it deep, and I just read the quarterback's eyes and went with it," Cleveland said. "The ball was tipped. I came down with it and ran out of bounds and secured it."
Cleveland finished that Eudora drive with a 40-yard burst up the middle right behind center Matt Schultz to the end zone.
"That was very good blocking on that play," Cleveland said. "I didn't even get touched."
The win moves Eudora to 2-0 on the season. It is also the second game in a row that Eudora's defense hasn't allowed a single point.
"I feel almost guilty the way we played the first half to be ahead 7-6," Eudora coach Gregg Webb said. "I mean that had to kill them (De Soto). It had to kill them. And then we struggled, but the first drive of the second half was huge. Once we got ahead 14-6, then they kind of saw that it was going to be pretty tough and our kids got fired up. And what it did was it gave our defense a little rest because they were out there the entire first half."
Next up for Eudora is a road contest Friday at Ottawa.
1 2 3 4 F
Eudora 0 7 7 13 27
De Soto 0 6 0 0 6
Scoring Summary
D – Logan Clark 54-yard fumble return (2-point conversion failed) 7:43
E – Brian Katzfey 32-yard pass from Drew Noble (Matt Jump kick) 5:03
E – Hawley Montgomery fumble recovery in end zone (Jump kick) 8:22
E – Boomer Mays three-yard run (kick miss) 6:47
E – Evan Cleveland 40-yard run (Jump kick) 1:48.