Thrill of victory
EHS

soccer tops Baldwin 3-2, snaps 21-game skid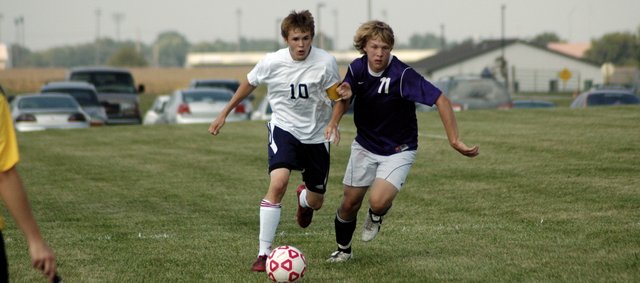 Photo Gallery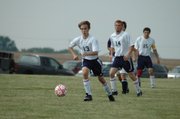 Eudora soccer vs. Baldwin
The Eudora soccer team won its first game of the year by beating Baldwin 3-2 Saturday in Eudora.
To hear Eudora soccer coach Gunar Harmon tell it, it sounded like the weight of the world was off his shoulders. Or more specifically, 21 monkeys.
The Eudora soccer team snapped it's 21-game losing skid by beating rival Baldwin, 3-2, in the seventh- eighth-place match of the Frontier League tournament Saturday at Eudora.
"It was 21 monkeys off my back," Harmon said. "There's relief in a sense. Also it was a relief to have four games in 10 days to win one because we got beat up playing Ottawa the No. 3 seed, and De Soto the No. 1 seed, the top finisher from last year, then Gardner. Even despite the score, 8-1, at Gardner we played much better than we had before. It's just a work in progress."
Eudora won the game on a penalty kick from Daniel Brauda in the final minute. Eudora had trailed 2-1 before Brauda scored his first goal of the game off an assist by Valerie Pringle to tie the score at two. Eudora then had momentum and got the call late at the end of the game to set up the penalty kick that turned out to be the golden goal.
"We got the fortunate call at the end," Harmon said. "I don't like losing that way, and having lost that way, it's kind of hard to take pure satisfaction knowing that it was a penalty kick at the very end that won it for us."
Madeline Dickerson scored Eudora's first goal of the contest off an assist from Matt Jump, and while Baldwin battled back to tie the game, the Cardinals controlled much of the game.
"It was a fair match, it was up and down the park," Harmon said. "I might even say we had more chances in the game."
After the game, the EHS players, coaches and fans celebrated the win, something they haven't been able to do in a long time.
"For me, 21 games in a row, spanning three seasons was a long, long time," Harmon said.
Harmon credited his seniors who have been through some pretty dark days on the soccer pitch over the last three seasons.
"It was a long season last year and it was a pretty tough beginning to this season," Harmon said. "So to get a win puts things in a better frame of mind. We can't get too far ahead of ourselves. We still have to play Baldwin two more times. It's a great feeling, but (when) Monday's practice comes around, we've got to prepare for Paola."
Eudora (1-3) will play Paola at 4 p.m. Thursday in Eudora. And ironically, Paola beat Eudora last season on a penalty kick in the game's final minute.
"This year I get one in the last minute," Harmon said. "Last year I got one against me in the last minute. So it's just get back to work. As much as the relief of winning is, it's a tonic, but back to work."
*
Eudora has also scheduled a couple of C-Team matches this season.
The first match is against Spring Hill at 4:30 p.m. Oct. 5 in Eudora. The second match is against Baldwin at 4:30 p.m. Oct. 12 in Eudora.
The Baldwin match will be an all-girls match, which will be the first time in school history that Eudora has had an all-girls soccer match.