Volleyball wants rematch against Bishop Ward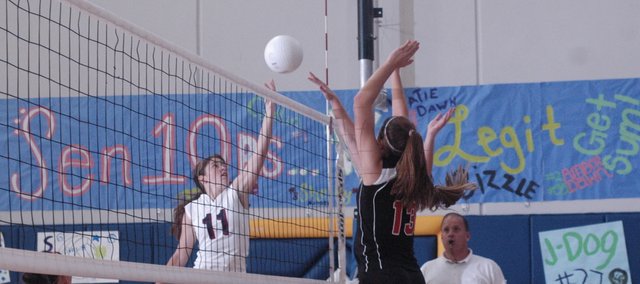 Photo Gallery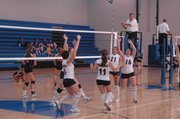 Eudora volleyball vs. Bishop Ward and Perry-Lecompton
The Eudora Cardinals want another rematch against Bishop Ward.
After meeting twice last season, including in the championship game at sub-state, the Cardinals and Cyclones met again Thursday in a triangular at Perry-Lecompton. And like last year's sub-state battle it went the distance, with the Cyclones coming out on top.
But just barely, as Eudora fell (25-19, 20-25, 22-25).
Ward had a definite height advantage over Eudora, having four girls who were about 5-foot-10 or taller. But in the first match, the Cardinals countered Ward's height with good passing to find angles and holes. Eudora came out strong in the match, and led by its three seniors Shea Lounsbury, Alex Mott and Abby Mott, Eudora won the first match.
But those holes went away in the second match, and in the decisive third match, Eudora fell being 17-10 before rallying late to cut the lead to two at 23-21. But ultimately Ward prevailed.
"Our big focus the last couple weeks is our execution on our passing and finishing plays," Eudora volleyball coach Jill Stutler said. "I thought in the first game against Ward we executed for different types of shots for our hitters. We found the holes and then in the second game we stopped doing that. And in the third game we waited until the very end to get back into that swing of finding the holes and making them off balance, and we just came up too short."
Eudora showed plenty of hustle throughout the contest as setter Allie Johnson and sophomore Katelyn Abel had several digs, and Lounsbury and Madison Maring tallied points with blocks at the net. But Eudora couldn't sustain that for all three matches.
"The first match, we were playing as a team and had really great passes," Alex Mott said. "And in the second match we just let all that go and our defense fell apart and our chemistry wasn't there."
The Cardinals bounced back in their second contest of the night and swept Perry (25-23, 25-10). But that wasn't much of a consolation prize as the Cardinals left the court disappointed they didn't beat Ward. But players and coaches all said they were hoping to meet again down the road.
"Oh, by far," Stutler said. "We want to see teams that are going to challenge us, and we're going to challenge them. And those are the fun matches to watch and be a part of. These girls need to know that they have to compete at that kind of level everyday for us to get better."
Next up, Eudora will play Thursday at Pomona before returning home for Senior Night against Ottawa Tuesday at Eudora.