Culinary program enjoying new surroundings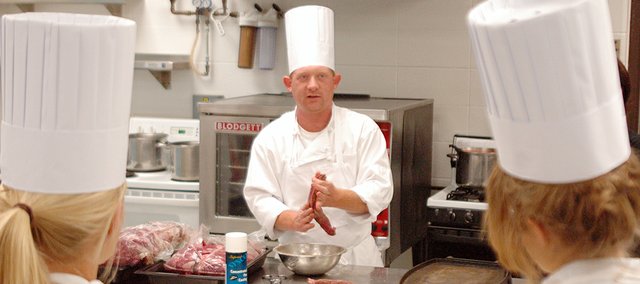 Jason Gray, culinary arts instructor at the Eudora-De Soto Technical Education Center, moved quickly around the kitchen at the program's new location in Nottingham Community Learning Center.
It's Thursday afternoon, and on Saturday he and the students in the program will cater the 400-person Heroes and Halos event for childhood cancer patients and their families.
Gray is nervous, and he's got a list of reasons almost as long as the list of dishes to be prepared for the Saturday's event at Fall Leaf Farms.
"It's an event I've never done, with a majority of students I've never worked with before," Gray said. "It's early in the school year, and we're working in a new kitchen."
This is the first — and only — year the culinary arts, and health career sciences programs will be housed at NCLC. The programs were moved from the aging Eudora Community Learning Center in an effort to save the district about $30,000 in energy and upkeep costs.
Next school year, the programs will be in a new tech center — which currently is being built and is funded by the $45 million bond issue approved by Eudora voters in November 2007 — at Eudora High School.
Though Gray wasn't yet comfortable in the new kitchen, he was comfortable with the extra refrigeration space, better dishwashers and a convection oven that made it possible to do in one hour what used to take one day.
For instance, the ovens at the ECLC would have taken about one hour to bake 36 of the 300 cookies that were served on Saturday. The convection ovens knocked out all 300 in about one hour.
Though the facility is a little smaller in some areas, such as the kitchen and the classroom, its updated appliances make for a more professional environment, thus decreasing the learning curve for students who decide to work in the culinary arts as a profession.
The updated surroundings also have Gray looking forward to the new facility that will house the program beginning in the 2010-2011 school year.
"This (facility) gets me excited for next year," Gray said. "In the new kitchen, there is more that I can take on and say yes to."
More like this story