5 Questions: Eudora
USD

491 establishing Green Team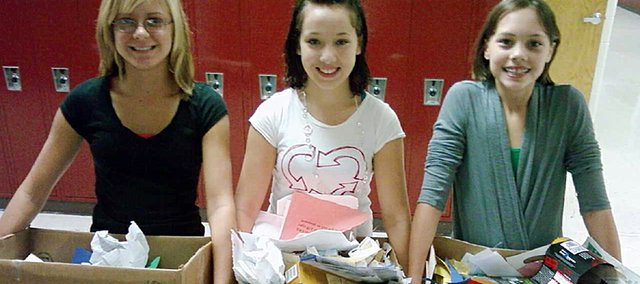 The Eudora School District is going green, and Eudora Middle School Green Team coordinator talked about what the program will look like when it comes online sometime early this fall.
Facilities also have recycling bins from Deffenbaugh, who will reimburse the schools with funds from the recyclables they collect.
For more information or to find out how to get involved, go to www.eudoraschools.org
Q: How did the green team come about?
A: Our district has been interested for a long time in greening up. We just wanted to make a better effort and the superintendent (Don Grosdidier) decided he wanted to take it out through the district and into the community. He realized it was something national and global and he wanted to localize it, as well.
Q: How will the Green Team work?
A: We hope to have a student group, like an environmental club, that will help. We're also doing initiatives throughout the school. We aren't using plastic at lunch anymore. All of the teachers have recycling bins in their rooms and we collect cans for the community in the teacher's lounge. We hope to get the club up and running soon to where it's a weekly thing and we can have more awareness and student buy-in.
Q: Why do you think this is an important cause?
A: Personally, it's important to me because I recycle at home and have always had this passion inside to protect the environment and advocate for recycling and conservation. So as a teacher, it's important to be a role model and have kids follow that example.
Q: So, is this an extension of things you've done before?
A: Yes. I haven't been here (in the district) very long, but everybody knows me as the greenhead, the hippy. For a while, I was asking the kids to leave their recyclables here with me and I was taking them home. I think (EMS instructor) Bob Sailler saw that and wanted to make it so maybe I didn't have to do that anymore.
Q: What kind of student response have you been getting?
A: We haven't really introduced much of it to them yet, but we see that most of the kiddos are trying really hard, especially in sixth grade. It seems the younger they are, the more exposure they've had to these ideas.
It's getting a lot more national and global attention, so I think that helps, too.