Hardware store closing due in part to lack of housing starts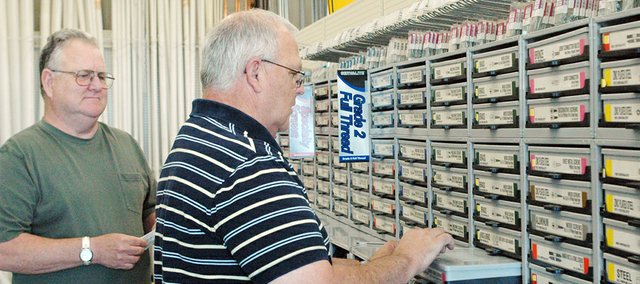 The year was 2004. Housing starts were booming in Eudora with 108 homes added that year in the city and 117 homes were built the year before.
Looking at those numbers, John Durkin saw an opportunity and opened Durkin's Hardware in Eudora
Fast forward to 2009, when with just about three months left in year, only three new homes have been built in Eudora.
Unless nine homes are built before Dec. 31, it will be the fifth time in the last six years that new housing starts have decreased from year to year.
The lack of new homes have spelt doom for Durkin's Hardware, which will close its doors by the end of October. The store will be the fifth to have closed in Eudora during the last year.
The businesses left for reasons ranging from lack of revenue to better business opportunities elsewhere.
"A few years ago when the city was building about 100 houses a year, we were at the point where we were looking like we'd do more than break even and start making some money," Durkin said. "But then construction stopped, and it was a huge loss in business."
The 12 homes built in 2008 were up from the nine new homes built in 2007. Before that, building permits for single-family homes declined each year since 2003 when 117 permits were issued. Permits totaled 108 in 2004, 96 permits in 2005 and a big drop to 25 in 2006.
Durkin said he lost money the last three years when the housing slump started, but a mild winter last year further exacerbated the store's woes.
After having the worst stretch in the history of the business from September 2008 to February 2009, Durkin said he saw a small increase from March to May, but it was not nearly up to the pre-2006 levels.
"We kept looking at it every month, but it just wasn't coming back like it should," he said.
Durkin said some of store's lack of success could be attributed to the bedroom community nature of Eudora.
"The city probably should be big enough to support a hardware store, but there are so many people who work out of town and it's convenient for them to go somewhere else."
The decision to go out of business wasn't an easy one for Durkin, who hadn't taken a salary during the last two-and-a-half years.
"It got to the point where I had to ask, 'Am I going to do this for another 5 years and continue to not make money, or am I going to cut and run?'" Durkin said. "I decided I couldn't afford to put in any more money."
He said he hoped people would realize the need to support local business at the least so the business tax base — which accounts for less than 10 percent of the total tax base in Eudora — wouldn't further decrease.
"The bad thing is that people don't realize that when businesses close, that's less tax money that will paid and that burden will be shifted onto homeowners," Durkin said. "They need to support their local businesses or they'll lose their grocery store like the people in De Soto."
Durkin said he would miss the interaction with people coming into the store who needed help with various projects.
"I loved the contact with the customers and the people you meet and the funny questions you get asked," he said. "I made a lot of friends and I want to thank people who supported the store."
Durkin's Hardware will begin deeply discounting its products this week. The store is located at 218 W. 20th St. Call 542-2221 for more information.